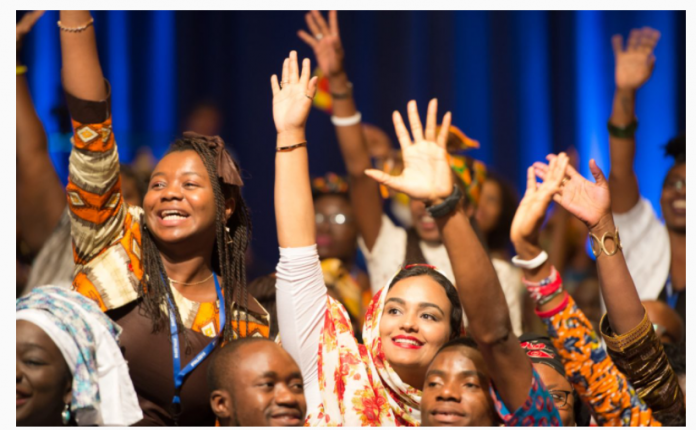 The Mandela Washington Fellowship for Young African Leaders is the flagship program of the U.S. Government's Young African Leaders Initiative (YALI). YALI was created in 2010 and celebrated its 10th anniversary in 2020.
Established in 2014, the Mandela Washington Fellowship has brought nearly 4,400 young leaders from every country in Sub-Saharan Africa to the United States for academic and leadership training.
See Also: Nominations for The Most Enterprising Students in Nigeria now open. 
The Fellows, between the ages of 25 and 35, are accomplished innovators and leaders in their communities and countries.
See Also: Apply for British Council New Narrative Challange 2022 for Young African Creatives. 
The Fellowship is an unparalleled opportunity to…
Participate in a six-week Leadership Institute at a U.S. college or university to share your experiences with and learn from U.S. citizens and other Fellows.
Explore industries beyond your daily work and expand your expertise.
Attend a Summit with young African leaders in Washington, D.C.
Meet with U.S. Government, civic, and business leaders.
Strengthen your work through new connections, skills, and ideas.
Eligibility
See Also: Apply for MTNFoundation/Muson Music Scholarship for Aspiring Musicians. 
Applicants will not be discriminated against on the basis of race, color, gender, religion, socioeconomic status, disability, sexual orientation, or gender identity.  The Mandela Washington Fellowship is open to young African leaders who meet the following criteria:
See Also: Apply for The Next Titan Season 8 (Nigerian Entrepreneurial Reality TV show), Win 15 million, more.
Are between the ages of 25 and 35 on or before the application deadline, although exceptional applicants ages 21-24 will be considered;
Are not U.S. citizens or permanent residents of the United States;
Are eligible to receive a United States J-1 visa;
Are not employees or immediate family members of employees of the U.S. Government (including a U.S. embassy or consulate, USAID, or other U.S. Government entity);
Are proficient in reading, writing, and speaking English (additional guidance coming for applicants who are deaf);
Are citizens of one of the following countries: Angola, Benin, Botswana, Burkina Faso, Burundi, Cameroon, Cabo Verde, Central African Republic, Chad, Comoros, Republic of the Congo, Democratic Republic of the Congo (DRC), Cote d'Ivoire, Djibouti, Equatorial Guinea, Eritrea, Eswatini, Ethiopia, Gabon, The Gambia, Ghana, Guinea, Guinea-Bissau, Kenya, Lesotho, Liberia, Madagascar, Malawi, Mali, Mauritania, Mauritius, Mozambique, Namibia, Niger, Nigeria, Rwanda, Sao Tome and Principe, Senegal, Seychelles, Sierra Leone, Somalia, South Africa, South Sudan, Sudan, Tanzania, Togo, Uganda, Zambia, or Zimbabwe;
Are residents of one of the above countries; and
Are not alumni of the Mandela Washington Fellowship.
See Also: The Most Enterprising Students in Nigeria Nominations 2021.
Benefits
Upon successful completion of their virtual Fellowship, all 2021 Fellowship Alumni will receive a certificate of completion signed by a senior U.S.
Government representative and official recognition as Alumni of the U.S. Department of State's Bureau of Educational and Cultural Affairs (ECA) International Exchange Alumni community. With this status comes a number of Alumni opportunities and resources, including competitively selected program activities and access to custom-designed online learning courses and collaboration tools through the Fellowship Portal.
As members of the broader U.S. Government International Exchange Alumni community, Fellowship Alumni will also have access to resources and activities offered by ECA's Office of Alumni Affairs, the YALI Network, and U.S. embassies and consulates.
Additionally, new and unique opportunities will be available to the 2021 cohort of Mandela Washington Fellows upon successful completion of the virtual Fellowship. These opportunities include:


Virtual Professional Development Experiences (PDEs)

A new round of up to 30 virtual Professional Development Experiences (PDEs) will take place from January 31 – March 11, 2022, which will only be open to 2021 Fellows. The application will open on August 16, 2021, and close on September 12, 2021. All 2021 Fellows who successfully complete their Leadership Institutes and are not participating in the August – September 2021 PDEs will be eligible to apply.

2021 Mandela Washington Fellowship Catalyst Grant

Through a new partnership with D-Prize, a non-profit organization that works to distribute and scale proven technologies to benefit people in extreme poverty, up to five 2021 Fellows will be selected to receive grants of up to $20,000 USD each to fund new social ventures or initiatives.  Fellows will apply through an open competition that will launch on August 30, 2021, and finalists will be selected in March 2022.  2021 Fellows from all tracks will be eligible for this opportunity.
Application deadline: September 15th, 2021.
For more information and application, visit the official website of the YALI 2022 Mandela Washington Fellowship for Young African Leaders.