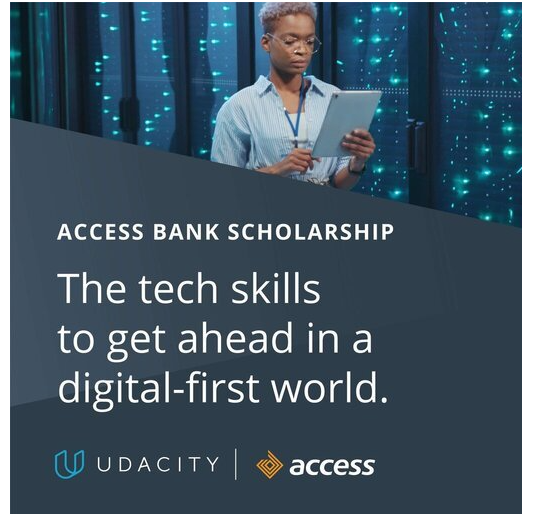 Udacity and Access Bank are committed to closing the divide between the number of tech jobs available and the number of Africans working in tech by providing opportunities to those who would not otherwise have them.
That starts with ensuring a robust pipeline of trained, talented tech professionals. Together, we are offering:
See Also: Nominations for the Most Enterprising Students in Nigeria
1,000 Nanodegree program scholarships for Africans to build practical, in-demand, cutting-edge tech skills.
Engagement with classmates in a robust, actively managed, student community.
Subject matter experts and on-demand tutors.
The scholarship will create upskilling opportunities for individuals and give them the skills needed in the digital world. In fact, the tech industry comprises some of the highest growth, most in-demand careers today.
See Also: RenMoney Career Starter Graduate Trainee Program 2021
Udacity is collaborating with Access Bank, a multinational commercial bank, to empower people in Africa who are interested in learning tech-forward skills to kick-start careers in the banking industry in 2021.
We are proud to provide hands-on learning opportunities in fields such as Business Analytics, Programming, Data Science, Product Management and Digital Marketing. Scholarship recipients will complete a portfolio of real-world projects that demonstrate mastery of highly sought-after tech skills.
See Also: Apply for Mindselo Young Creators Program 2021
Scholarship timeline:
Applications for this scholarship program are open! The timeline for Cohort 1 will be:
Applications Accepted: August 2, 2021 – August 31, 2021 (application deadline).
Challenge Winners Announced: September 10, 2021
Challenge Course: September 13, 2021- October 18, 2021
Scholarship Winners Announced: October 28, 2021
Scholarship: October 29, 2021 – December 24, 2021