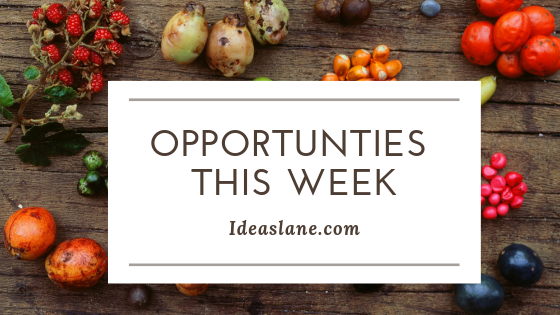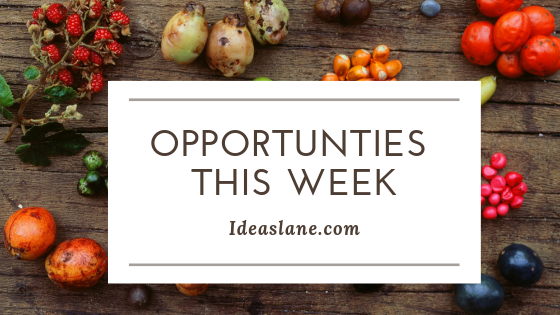 Hello guys,
How has been your week?
Hope you've been smashing your goals for the year 2019?
Well, April is another opportunity for you to catch up on some of your planned goals. Just get at it.
This week, we bring you some of the hottest opportunities flying around right now for African youths.
Feel free to browse through and apply
Google Code Jam Competition 2019
Google's longest running global coding competition, Code Jam, call on programmers around the world to solve challenging, algorithmic puzzles against the clock.
Contestants advance through four online-hosted rounds to compete at the annual Code Jam World Finals that is held at a different international Google office each year.
Each round brings new challenges and in the end, 25 contestants will have the ultimate chance to put their skills to the test, vying for cash prizes and the coveted championship title at the World Finals.
Register and compete in Code Jam's Online Qualification Round. It lasts 27 hours, but you won't need that long to earn the round's qualifying point minimum.
Once you do, you'll advance to Online Round 1. They offer three sub-rounds for Round 1, and you can compete in as many as it takes for you to finish in the top 1,500 of any of these rounds.
The top 1,500 from each sub-round move on to compete for a spot in the top 1,000 contestants of Code Jam Online Round 2.
These top 1,000 contestants advance to Online Round 3 and earn a limited edition Code Jam t-shirt.
They will bring the top 25 contestants from Code Jam Online Round 3 to their onsite World Finals, which happens in a different Google office each year.
There, the participants will compete for the championship title and a cash prize of $15,000.
Location: Online
Benefits
1st Place – $15,000 USD.
2nd Place – $2,000 USD.
3rd Place – $1,000 USD.
4th—25th Place – $100 USD.
Eligibilities
Please visit the official link for detailed eligibilities.
Dead Line
April 7, 2019
International Student Poster Competition and Online Exhibition 2019
The ACM SIGGRAPH Education Committee sponsors the SpaceTime juried International Student Poster Competition and Online Exhibition 2019.
The SpaceTime 2019 International Student Competition provides an excellent opportunity for students attending schools at the College/University levels or High School/Secondary levels to exhibit their computer-based media creative work nationally and internationally.
Entries will be judged by international jurors on the basis of the solution of the theme, artistic merit, design, originality, technical excellence, and content.
The theme for SpaceTime 2019 is: "Thrive", keeping with the theme of the 2019 conference.
ACM SIGGRAPH is the ACM Special Interest Group for Computer Graphics and Interactive Techniques.
The ACM SIGGRAPH Education Committee works to support educators in computer graphics and interactive techniques.
This encompasses both technical, creative, applied and interdisciplinary studies at all post-secondary levels that intersect curricular areas of computer science, engineering, art, design, and related disciplines.
The Education Committee undertakes a broad range of projects and activities in support of the computer graphics and interactive techniques education community, such as developing curriculum guidelines, providing instructional resources, organizing SIGGRAPH conference-related activities and outreach.
Location: Online
 Benefits
The first two winners will receive a non-transferable complimentary Conference Select registration to the conference, which does not include travel or lodging.
Eligibilities
Please visit the official link for detail eligibilities.
Eligible Regions: Open for All.
SDGs in Action Film Festival 2019
The SDGs in Action Film Festival, coordinated by the UN DESA Division for Sustainable Development Goals (SDGs), is a competition seeking short films that highlight how people and organizations around the world are taking action for the 17 global goals.
The Festival was launched in 2018 in connection with the High-level Political Forum on Sustainable Development that takes place each July at UN Headquarters in New York.
The competition offers amateur and professional filmmakers around the globe the chance to submit animated or live-action films up to 20 minutes long that showcase a person or project working on tangible solutions to the world's biggest threats and making the SDGs our reality.
Entries will be accepted in the following categories for 2019:
Protecting our planet
Reducing inequalities
Building peace
Ensuring quality education and jobs
Young Filmmaker (24 years old or younger)
SDGs in Virtual Reality/360 degrees
To enter the Festival, participants must upload their film (up to 20 minutes in length) to the site of Freefilmway.
In doing so, participants must follow all terms, conditions and policies specified by the site.
Participants must include the YouTube or Vimeo link to their film in the cover letter of their submission as well as contact information.
Participants who cannot be contacted, or who withdraw their film from YouTube or Vimeo prior to the announcement of Festival winners, will be automatically disqualified.
Participants may use any type of film or photo technology to complete their entry, including but not limited to video, mobile camera, web camera, photography, animation and artwork.
Following the deadline, a selection committee comprised of an international jury panel will select 6 finalist films to premiere at the United Nations High-level Political Forum (HLPF) on Sustainable Development in July 2019. All finalists will be contacted after the judging selection is complete.
Location: United States
 Benefits
The Prize for finalists will be the opportunity for their films to be showcased to the world during the special event at the HLPF, the central UN platform for follow-up and review of the implementation of the Sustainable Development Goals, as well as an invitation to attend the event and a storytelling workshop in New York in July 2019.
Eligibilities
The Festival is open to all individuals and groups. Employees of the United Nations Secretariat or its agencies, programmes or funds, are not eligible for entries in the Festival.
Participants under 18 years of age may participate with the permission of their parents or legal guardians.
If the film of an entrant under 18 years of age is chosen as a semifinalist or finalist and written parental or guardian permission cannot be provided, the United Nations Secretariat has the right to reject the entry.
Entries can be submitted in one of the six official languages of the United Nations (Arabic, Chinese, English, French, Russian, and Spanish). However, entries in languages other than English are required to have subtitles in English.
Eligible Regions: Open for All