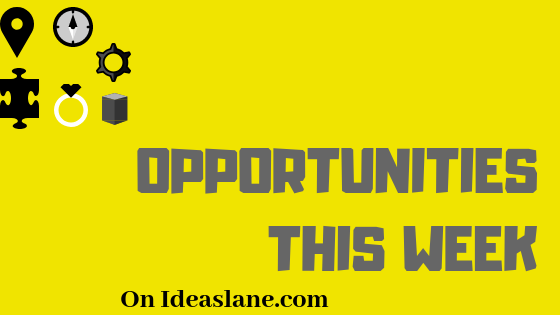 It's another beautiful week of opportunities and we have plenty of them for you today.
Meanwhile, how has your week been? Hope lectures is not driving you crazy?
And congratulations to all amazing new student across campuses in Nigeria and Africa.
Now sit down, relax and browse through this week's opportunities.
 Airbus Bizlab Africa4Future Accelerator 2019
The Aribus Bizlab  Africa4Future Accelerator Programme 2019 is seeking early-stage startups from all 54 African countries who are actively working on solutions related to Automation and Drones, Electrification, Blockchain, Artificial Intelligence, Data analytics, Material composites & Manufacturing.
Following a review, ten applicants will be chosen to join #Africa4Future, a six-month acceleration program, starting on 7th January 2019. Selected teams will receive:
Access to industry-leading experts at Airbus sites in Europe
Feedback on their technology and business models from top engineers
The opportunity to showcase their startups at the Paris International Airshow in June 2019
The opportunity to launch a collaboration project in partnership with key Airbus departments.
They will also receive space within MEST Incubators in Accra (Ghana), Lagos (Nigeria), Abidjan (Ivory Coast), Cape Town (South Africa) or Nairobi (Kenya) from January to June 2019, where they will have the opportunity to become part of the vibrant, global MEST tech startup community.
During the program, the ten selected teams will participate in a mix of virtual and physical workshops. International travel, accommodation, and food will be covered for one person per team, for all workshops.
Below is an overview of the program timeline:
15–17 January: Kick-off in Nigeria
04–17 March: Workshop in Europe at Airbus
13–24 May: Workshop in South Africa
19–26 June: DemoDay at the Paris International Airshow (France) and CeBit Hannover (Germany).
From January to June, all startups will have access to virtual mentoring and co-working spaces in Accra, Lagos, Abidjan, Capetown and Nairobi.
Travel, accommodation and food will be covered for one person per startup for all workshops.
Attendance to all workshops is compulsory.
Eligibility
Open to African startups innovating in:
Automation and drones
Electrification
Blockchain
Artificial Intelligence
Data Analysis
Material Composites
Manufacturing
WAAW Foundation Scholarship for Young Women in Stem 2019
Application for the WAAW Foundation Scholarship for Young Women in Stem 2019 is currently open from September 19, 2018 and close on November 30, 2018.
ELIGIBILITY CRITERIA
WAAW foundation's annual scholarship initiative is aimed at supporting need-based African female STEM-focused college education.
Please read the eligibility criteria before you apply. All non-qualifying applications will be automatically deleted! Criteria for eligibility include:
Female students of African origin, living and studying in Africa.
Currently enrolled in an undergraduate B.S.degree program.
Studying STEM-related courses in a University or college in Africa.
Demonstrable financial need, and
Excellent Academic Record.
Below the age of 32 years.
Scholarship
Scholarship recipient receives an award of $500 for the 2018/2019 academic year or the equivalent in the country's local currency. Prior scholarship recipient may re-apply for renewal the following year with proof of continued academic excellent performance.
How to Apply
Your application will include the following:
Application form filled out completely. We will only accept online applications this year. NO PAPER APPLICATIONS WILL BE ACCEPTED*.
Personal and Contact Information.
Educational background and Family Information.
Statement of need should describe why scholarship funds are needed and what the funds will be used for if received.
Essays are a strong criteria in determining candidates who are shortlisted. Responses to the essay where to buy modafinil online reddit questions that address career goals and how you expect the WAAW scholarship will assist in your education. Please have your essay responses ready before you begin the application.
In 500 words or less, please write an essay on your future career goals and how you expect the WAAW foundation scholarship will assist in fulfilling those goals.
In 300 words or less, please describe what you believe about female education in Africa and its impact on research, development or advancement in African economies.
Describe in ten or less sentences why you need a scholarship. Tell us about your need or personal/family/financial situation and how the funds from WAAW scholarship will assist your education and/or career plans.
Two academic/professional references. Note recommendations and transcripts ARE NOT REQUIRED AT THIS TIME. ONLY after a candidate has been shortlisted. However, you must provide the names of 2 references in your application.
For more information, visit WAAW scholarship official website