Its common knowledge that starting a business in Nigeria is as difficult as it gets, much less growing a sustainable and profitable venture.
But if you ask an entrepreneur operating in Nigeria, they'll probably tell you that in the real sense, being a business owner in Nigeria is even more backbreaking.
If there is anyone who has gotten his own fair share of the backbreaking challenges of doing business in Nigeria and has thrived regardless,  it is Eboizi Okoruwa.
Eboizi Okoruwa is the CEO of Wao Interiors, a leading interior decor, wallpapers sales, distribution, and installation company in Nigeria.
The company is fast expanding its operations across Nigeria and becoming a household name when it comes to interior decor.
They have outlets in Lagos, Ibadan, Abuja, Port Harcourt, Benin City, and other states in Nigeria.
In this interview with Bukola Owo-Bello, he shares some of his business challenges, success stories, and everything in-between.
See also: Oluwatobi Ajayi: Doing the Impossible
Tell us how you started out and how you got to where you are today
Interestingly, the business started with some little savings.
Initially, I had a partner who latter opted out because of challenges with startup business in Nigeria.
I must say, it was quite challenging when we started the business.
But we concentrated mainly on using social media for marketing purposes, and it yielded really great results.  So clearly, consistency paid off.
What's your daily routine like?
My daily routine revolves around handling really difficult clients. I also have to manage my staff so that the business can continue to run smoothly.
Also, I have to go to all the Lagos branches and be sure no serious challenges come up.
What's the most challenging situation you've ever faced in business and how did you scale through?
See also: 71 Things to do During Covid-19 Lockdown
There have been many challenges since I started this business.
But one of the most challenging situations were months when there were practically no sales.  Those periods were really though.
We had to find a way around it. So, what we did was to device a means to reach more and more clients.
We embarked on cold-calling and social media platforms, and this paid off very well.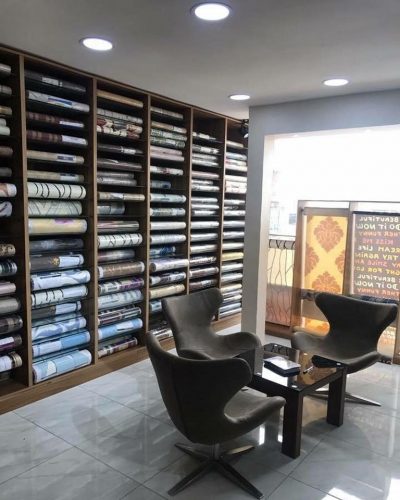 What's the best business advice you've ever received?
The best business advice I've ever received was when someone told me about the benefit of taking my business online. And for real it has paid off greatly!
What's the greatest business achievement you are proud of?
There have been many success stories over the years.
But the one that quickly comes to mind was when our company was awarded the contract to install wallpapers in 125 rooms of Raddison Blu hotel in GRA Ikeja.  It's one of our proudest achievements
.
Is there anything you would do differently if you had to start all over again?
Well, so far, it's been a learning experience for us. Our brand, Wao Interiors keep getting better by the day.
To answer your question, If I were to start again, I will spend more money on adverts and pay more attention to marketing.
Any other business interest you are thinking of pursuing?
Yes.  I have 2 I am currently working on.
How do you unwind
At my leisure, I love to play table tennis, swimming and sometimes chill at the bar with friends.
What tools, gadgets, or apps can't you do without?
Instagram, Facebook, and of course, my iPhone.
What would be your best advice to aspiring entrepreneurs?
Be consistent, you will face a lot of challenges, but don't see giving up as an option.