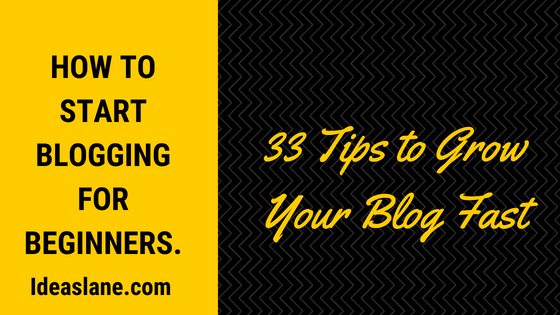 How to grow my blog audience
You want to start blogging, grow your blog and become a successful blogger. You are a student, and you really love to write. You already have a blog but you want to grow it fast and start making money form your blog?
If any of these scenarios described you, you have clicked the right search result.
This article contains a very easy guide to blogging for beginners like you. I will give you 33 Simple Tips To Grow Your Blog with ease.
This article is written for young people and students who are forward thinking.
Young sharps who will not wait till they graduate from school before thinking of what to do with their lives.
Tell you what? Blogging is one of the best businesses a student can start at school.
Although you may not see it as a business now, blogging can actually earn you a full-time job in the nearest future, if you do it well enough.
Many bloggers blog full-time. This means they are making good earnings monthly from blogging.
Because you are just learning how to run a blog, I will not want to focus on the monetary aspect of blogging yet.
How about, you read this article, go implement the tips and come back in 4 months.
Then, we can talk about how to start making money from your blog – which would have been up and running by then.
What You Should Know before Starting a blog
Before we dive deep into the easy & complete guide to blogging for beginners,
There is an important question you have to ask yourself before starting a blog:
Why do I want to start blogging?
If you want to start blogging simply because you love to write and have a passion for it, fine.
You can blog about just any topic and if you do it long enough, you will build your readership.
If on the other hand, you desire to make money from blogging, then you may need to choose a niche. What is a niche blog?
The simplest way I can define a niche blog is a blog narrowed down to a topic or focus.
You will largely write detailed blog posts on such narrowed down topic. A niche blog could focus on photography, fashion, how to make money online, sports, entertainment news, etc.
Here is a list of 71 blog niches of all time from which you could choose from
You need to have both interest and passion for your niche hand in hand with your love for writing. This will help your blog grow fast.
If you are starting a blog with making money in view and you want to grow your blog fast, choosing a niche is the best bet.
Before choosing a niche, there are very important factors to consider in order to see how profitable your niche is.
Assuming you have chosen the desired niche, the next step is to create your own website.
What You should know before creating your website
There is an important question you need to ask yourself before getting a website.
Do you have a budget for creating your website or are you looking for a free or website?
As a young blogger, I assume you may want to go for the later, free website. This is not a bad idea.
A lot of successful bloggers host their websites on free blogging platforms. You can grow a successful blog with it.
To create your own website, here are some 6 simple steps you will have to take:
#1 You will choose a Web Hosting Provider
#2 Next, you will choose a Blogging Platform
#3: You will Then Register Your Domain Name
#4: You will get a Web Hosting Plan
#5: And install WordPress on Your Web Host
#6: Then you can simply design Your Blog
Am I beginning to sound technical?
Don't worry, these terms are not as difficult as they may sound. This blog post on how to create a website all by yourself explains these steps in simple terms, one after the other and how much it will cost you.
Now that you have sorted out creating your website, the next thing is to start creating contents for your blog niche.
If you want to create contents that will drive traffic to your website and make your blog grow fast, you need to have some Search Engine Optimization knowledge.
To start with, what is Search Engine Optimization (SEO)?
Simply put, SEO is the method of improving the number and quality of people that visit your blog through search results that are not paid. Search results that are not paid for are otherwise known as organic search results.
SEO is so important that everyone who wants to grow their blog fast should have basic SEO knowledge.
Whether your blog is years old or you are new to the blogging business, I have some powerhouse websites for SEO that I can recommend for you.
These websites have more than the resources you ever need for SEO. My fear is if you would be able to absorb all the resources therein.
So here are the websites I recommend for you to learn all the SEO you need to know.
4. The Moz Blog
5. The SEM Post
Now that we have figured out how to start blogging from the scratch, it is time to start creating exciting and search engine optimized contents on your blog.
Here are some 'Don'ts' on content creation that you should always, always remember.
Rule #1 Don't plagiarise
Always be original with your contents. Google has a way of detecting contents that are copied from other blogs. If you want your blog to grow fast, you need to write original contents in your own words.
Rule #2 Don't Duplicate Contents
If you have two or more contents that look too alike, Google may penalize you for that. Google may decide not to rank any of those similar contents in search results. So avoid having exactly the same or too similar contents on your blog.
Rule #3 Don't Bombard Your Blog Posts with Keywords
Google hates it when your blog posts are saturated with your keywords. You risk being penalized when you do this.  Avoid too many uses of your keyword in a particular post. Just write the way it is natural to you.
Rule #4 Don't Write Too Long Sentences
Your readers hate to read long and boring looking writeups. Avoid too long sentences and paragraphs. Break your thoughts into as small meaningful sentences as possible.
Rule#5 Don't write to an unknown audience
Avoid writing to an unknown or ambiguous audience. Know your audience and address them in a proper tone. Be specific. If your target audience is teenagers, address a teenager. If they are parents, address your blog post to a parent.
Now, that you have these don'ts at the back of your mind, let's head on to our ultimate top 33 tips. These tips will help you grow your new blog faster than you can imagine.
These tips will help you grow your new blog faster than you can imagine:
Choose blog topics carefully
Don't just choose a topic when you want to write a blog post. Choose topics that will drive traffic to your blog. Make sure the topic is not entirely outside of your niche.
Inspirational posts, trending news and events, how-to tips, list articles, interviews, Q&A posts and quotes are some of the blog posts that drive traffic mosts.
This infographic on types of blog posts is my go-to place for blog topics whenever I am experiencing writer's block. You will find it amazingly helpful.
Research your Topic
Research deeply about your blog topic before writing on it. This helps you write authoritatively. Your readers find it easy to believe you when you write authoritatively and they tend to come back to your blog another time.
If you can make all your readers come back to visit your blog, that is a great advantage over your competition.
Use Google Keyword tool to choose your keywords
Google Keyword tool helps you know the best keyword for your blog posts.
When people search for your topic, what are the likely words they type in their search engines?
Google keyword tool helps you answer this. it shows you the search volumes of a keyword.
You may have to go for keywords high search volumes but fewer results so that you can have a chance of being ranked, that is if you are in a competitive niche. Your SEO research will tell you more.
Write error-free blog posts
As a blogger, it is though enough to write frequently not to talk of adding the burden of writing error-free posts. But what can help you?
Read and read and re-read your blog posts until you cannot spot any error. Then give it to someone else to proof-read for you.
Another way to minimize errors on your blog posts is to get writing tools. Grammarly is my best bet. Grammarly has been massively helpful in my blogging career. Since I discovered it, it has been my right-hand tool.
I recommend Grammarly for beginner bloggers who want to grow their blog fast.
Publish at least 30 posts on your blog to start with
You need at least 30 foundation blog posts on your blog to start with. These blog posts must be deliberate and targeted at your audience. With these number of blogs, you can grow your new blog's traffic and begin to process Google's AdSense.
With Google Adsense on your blog, you can begin to make money from your blog.
Imagine you have 30 solid blog posts on your website and each blog post drives 50 viewers per day. 50 viewers x 30 blog posts = 1500 viewers per day. Amazing!
With Google Adsense on your blog, you can begin to make money from your blog.
Write at least 1,500 words in each blog post
And that may be the minimum. Some bloggers will recommend nothing less than 2,500 words for a blog post. Quantity matters, but for me, quality matters more.
When Google sees scanty materials, it takes it down the search result or removes it altogether. You don't want to be a victim.
The earlier you start writing the better
Your blog posts will drive traffic over time. It takes months for a good blog post to start attracting reasonable traffic. So start writing now!
Write catchy attention-grabbing headlines
Your headline can make or mar your write-up. You must be attention grabbing in order to create curiosity in the minds of the readers so that they are tempted to click the title and visit your website to read the blog post.
One of the ways you can get the attention of your audience with your blog headlines is to use power words. CoSchedule explores hundreds of such powerful words and phrases in this post.
For more information on compelling headlines, this blog post with millions of view on how to write great headlines will help you.
Divide your posts into subheads
Google loves to rank clean looking, well-subtitled blog posts. Create bullet lists or numbers on any lists in your blog posts. Create subheads and subtitles too.
Make sure your figures, statistics and facts are correct
Nothing pisses your readers off about your blog post than a false or incorrect information. Always check to ensure that statistics, facts and figures on your blog posts are 100% correct.
Include quotes from industry experts in your blog posts
Quotes make your blog authoritative. Quotes from industry experts endorse your blog posts as one coming from a thought leader.
Quotes make your blog authoritative.
Ask questions. Ask questions. Ask questions
Do you want your audience to feel that you are having a conversation with them on your blog? Do you want them to feel like you are there with them physically? Then bombard your blog posts with questions. Lots of questions.
Invite readers to add their comments
Your readers will find your blog exciting when you use various words and sentences formats.
Engage your readers
Once you've written a compelling blog post and you are sure your audience will find it an exciting read, why not invite your audience to drop their comments in the comment sessions.
Ask your audience engaging questions at the end of your write-up that can keep the conversation going among your readership. Always be around your blog to promptly reply to everyone who is kind enough to comment on your post.
Add links to your blog posts
Clickable links include internal links and backlinks. Internal links are links leading readers to other related pages still on your blog.
While backlinks are links leading readers to other people's websites. Backlinks and internal links must contain valuable information for your readers not just links for link's sake.
This all-time resource by NeilPatel Contains all you need to know about links and how many links you should have in a blog post.
Tag blog posts properly
Tags help your posts' visibility. If you want to grow your blog fast, your blog posts must be optimally tagged. Tagging is how you define elements in your blog posts. i. e how you describe your image, the post category on your website, etc.
Ana Hoffman in this post explains what you need to know about tags in this post.
Write frequently and consistently
Can you post daily on your blog? If so, great! If not, how about three or four times a week? If not, twice a week is not bad. If you must write twice a week, you have to be constant and consistent so your readers can know the frequency of your blog posts.
Add images and infographics 
Enliven your blog posts with clear and bold images, infographics and videos. Make sure all the images you use on your blog posts are ones you have the right to use.
Images and graphics drive more traffic to your blog that the traditional words. On a site like Canva, you can create clear and attractive images for your blog posts.
You could download free stock images from sites like:
StockSnap
Pixabay
Pexels
Make sure all the images you use on your blog posts are ones you have the right to use.
Promote blog posts on social media
Create social media accounts where you could share your latest blog posts with your followers. Social media helps you grow your blog fast, especially if you have a huge following. You are able to drive traffic to your blog if you have many engaged audiences on social media.
Have clickable social sharable buttons on your blog
It is on one thing to have social media accounts where you share your blog posts, it is another to have social media buttons on your website. If you do, what is its location? Is it obscure? Make sure your social media buttons on your websites are obvious and has the right links to your social media pages.
Share posts at least three times daily on Twitter
On Twitter, there is a possibility that your followers may not see your post if you share it just once. Posts last only a few seconds on Twiter feed so sharing your posts three to four time a day will help you draw more people's attention to your blog.
Be active in bloggers communities 
Where does your competition socialise? Where are they gathering and sharing their resources? You must be there too. One of the popular communities for bloggers is Reddit. Nairaland is also quite popular among Nigerian bloggers.
Invite niche Guest writers
When you have guest bloggers write articles on your blog, you are adding to your reservoir of contents. Moreso, your guest bloggers will always promote their write-ups on with their networks which will drive traffic to your blog for free.
Guest blogging also helps you build relationships with bloggers who can later invite you to guest blog for them too.
When you have guest bloggers write articles on your blog, you are adding to your reservoir of contents.
Guest write for niche blogs
Look for blogs in the same niche as yours and show your interest in guest blogging for them.
When choosing the right website to guest blog, make sure you go for blogs that have more traffic than your blog. This will help you grow your traffic with their existing readership.
You will have the opportunity of including your profile at the end of guest blog post. Ensure you have a link to your website in your profile. This is one of the easy ways of driving traffic to your blog.
Here are some useful tips on how to write for blog niches.
Increase your website speed
According to this post, readers can only wait a few seconds for a website to load. If your website does not load within this time limit, then you should put it in check.
Since you are just starting your blog, you may not know all the technicalities of speeding up a website. You can always consult a programmer or anyone around you who has more knowledge about a website.
Use readable fonts and colours on your website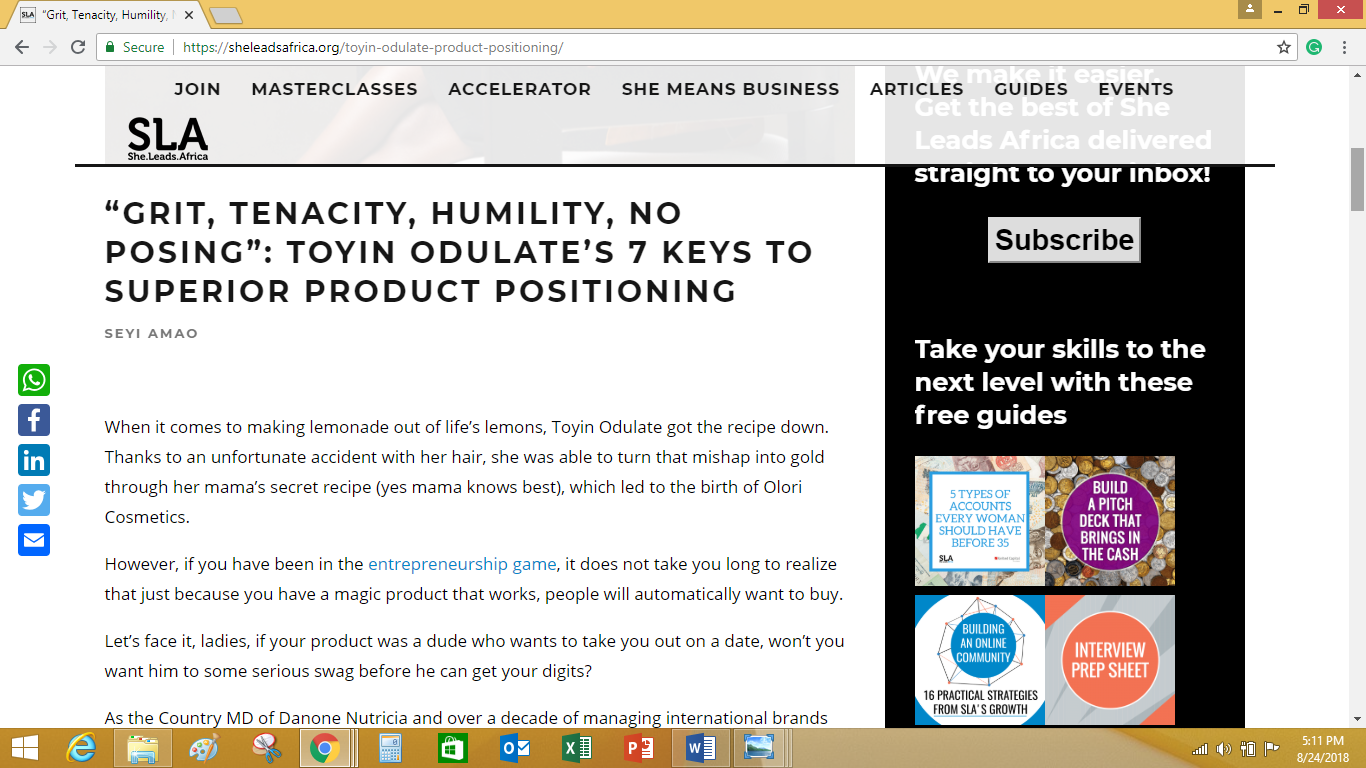 Plain white background with black font colour will do for any blog. Using any other colour other than white as your background may not make your site clear enough. The choice is always yours, anyways.
Create an Email list and ask readers to subscribe
Email lists are one of the most effective ways you can drive massive traffic to your blog. Depending on the number of your subscribers, your blog posts can gain unprecedented views if you send post emails to subscribers.
Send emails to subscribers whenever you have the latest blog
Use email platforms like MailChimp to compose professional emails for your subscribers whenever you have new blog posts.
This may come at a cost but it's always will give you good value for your money if done properly.
Have an attitude of gratitude
Always show appreciation to your loyal readers, followers and fans. Thank them for reading your blog posts as many times as possible.
Without your fans, do you think you can have a successful career in blogging? No matter how excellent your contents are you simply can't. So appreciate the people who make you grow.
Be persistent. Be consistent
It's as simple as it sounds. And you have no options if you want to grow your blog.
Get mentored
Do you know what they say about no one being an island of knowledge? Yes, it applies here. You can't know it all.  Neither can your mentor but you can always exchange knowledge.
Look for someone that can mentor you within or outside your niche. Check the person's profile and make sure you approach the right person who can put you through life and business.
Invest in your Blogging knowledge
Read read and read some more. Attend events for bloggers, read Ebooks, enrol for courses, register for training, attend classes etc. just make sure you're adding to your knowledge by the day.
All the best to you!
I can only wish you the very best of traffics as you follow these 33 tips to grow your new blog.  I want you to come back with your exciting testimonies. Do you promise me that? Then I will be waiting to pop some champagne and dance some "shaku shaku" in celebration of your success.
Thanks for reading my tips.
Which of the tips above really strike you?
Which of the tips do you intend implementing immediately after reading this?
Let me know your thoughts on these tips and how useful they are for you.
Happy Blogging.