How to Become A Professional Footballer In Nigeria
Grow your football skills
Show your talent
Join a football club
Develop a marketing strategy
Be ever prepared
Be persistent
Sign the contract
Do you want to become a successful footballer in Nigeria? That's the dream of thousands of young Nigerian men and women.
However, sad, most of these aspiring footballers in Nigeria have no idea how to achieve their dreams of becoming footballers.
In this post, I will satisfactorily help you answer the question: How can I become a footballer in Nigeria?
Among the most popular sports in the world, football or soccer happens to be the number one most popular sport of all time.
Also see: 5 SKILLS TO LEARN TO TRAVEL TO CANADA
This sport is loved by almost everyone on earth with estimated fans numbering into 3.5 Billion seconded by Cricket. In Nigeria, football is the most popular and most loved sport.
I can personally remember a certain under-18 world cup that took place on a Sunday and most places of worship were either empty or filled with women.
Funny right? That's the extent to which Nigerians love football.
Now the thing is if you have exceptional football talents and the discipline to work hard to improve performance level, then being a footballer could be ideal for you.
Although most professional footballers start learning football skills at around ages nine or ten.
But never worry about that as long as you have a passion for football and you are willing to work hard then you don't have a problem.
Many young people who do have the passion and exceptional football skills are either not supported by others or do not know which steps to take to achieve their goals.
That is probably the reason why you have decided to comb on this topic. Well, hunter! This is where your hunting for this subject stops.
In this blog post, I am going to take you through the necessary actions you can take to achieve your dream of becoming a footballer in Nigeria. And I will take you through it step by step.
Let's dive in…….
How to Become a Professional Footballer in Nigeria
1: Grow Your Football Skills
Many of those who want to be footballers have played football in various ways and in different places. Whether with your compound, your neighborhood or even with your school.
Perhaps you have played different types too such as monkey post, score and keep, or the very common sets.
See Also: 10 DIGITAL SKILLS GUARANTEED TO GET YOU A JOB
In these different ways and places you have definitely sharpen your footballer skills and talents but that is not enough you need to make your skills meet up with the international standard.
How do you do that? Join a Football Academy! Yes especially if you are between the age of 13 and 18.
In a Football Academy, you get first-hand instructions from qualified coaching staff who have years of experience and understand the rudiments of the game.
They will help you groom your natural skills and help you develop professional techniques that will make you meet up with international standards. You can check my article on Best Nigerian Football Academies which I will write on soon enough.
But I will mention just three here so you can get a quick picture of anyone you might be interested in signing up for.
FAQ- Can I become a footballer at 25?
The answer is yes, But you have to be already very good. You can't begin your football career at that age. Keep reading the post to understand better.
FAQ – Which football academy is the best in Nigeria? Pepsi Football Academy
Barcelona Football Academy (FCB ESCOLA)
FCB ESCOLA is a Lagos based Football Academy, It is set to inculcate the knowledge and skills of football for students between the ages of 5 to 18.
As you know that FC Barcelona happens to be a world-class football club and also a legend with likes of Lionel Messi taking the football club to high levels.
This football club owns FCB ESCOLA so they provide the highest level of training for upcoming football talents.
This Academy is great as it provides you an opportunity to not only grow your skill but also to get into the European world of football.
Pepsi Football Academy (PFA)
The best football academy in Nigeria as it is proudly called is owned by the popular International company-Pepsi.
A lot of prominent football stars such as Mikel Obi were products of the PFA. It is a great place to develop your skills and build your natural talent as a football player.
One interesting thing about Pepsi Football Academy is that Pepsi gives scholarships to study in the UK. Pepsi Football Academy is located in Lagos at Agege Stadium and it has 14 centers in other cities. The number of students they train is well over 3000.
Abuja Football College (AFC)
Gabriel Newton is the founder of Abuja Football College. He happens to be a licensed instructor by FIFA. The students of Abuja Football Academy have represented Abuja when it's time to play at a national level or other important games.
Papilo is the nickname for a world-class Nigerian football player Kanu Nwankwo. He is the founder of the Papilo Football Academy.
Among the Coaches Kanu Nwankwo invited to his Academy are Gary Smith and Bary Robson world-class coaches.
So if you looking for the best places to get professional knowledge and experience in order to become a skilled football player playing at international levels, then Papilo Football Academy is one of those places.
This is just four out of numerous football academies that you can sign up for. You have to make your choice.
FAQ – Who is the richest club in Nigeria? F.C Ifeanyi Ubah
2: Be Persistent – How to Become a Footballer In Nigeria
In the process of developing your football skills, you might meet up with some challenges that will want to weigh you down. Remember that winners never quit and quitters never win.
This applies to football too. So don't be quick to give up on your dreams. If you face any challenge ask for help and also remember that practice they say makes perfect.
Well, I will put this my own way practice won't make you perfect don't expect perfection. Practice can only make something permanent and become a natural part of you. So practice, practice, practice, and heed the advice of your coach at the Academy. 
How to Become a Professional Footballer in Nigeria
3: Show Your Talent
With a lot of practice and so much persistence, you would have sharpened your football skills and be on your way to become a footballer.
Now it's time to let others see what you can do as an aspiring football player. I am talking about showing off your skill to your friends in your neighborhood. Even that can be good but it's of no value and benefit to your career.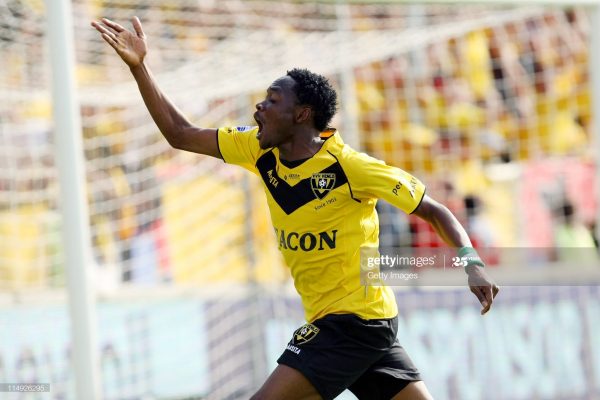 The people you want to show off your skills to are those we call scouts-professional football players both local and international.
These scouts know what they want from a player. They are often impressed when they see aspiring footballers showing off their skills.
So frequent places where these scouts often visit then you will get a chance of showing off your football skills and getting picked to play either in a national team or international thing.
What if you visit such scouting zones and you are not picked? Well, remember step 2 be persistent.
Even if you are not picked by a particular set of scouts you get to find out their criteria for picking footballers and you can thus use the information you get to develop and build your own football skill and eventually you will be picked.
So make sure you have relevant contacts in scouting zones so that you can be well informed as to when scouts will be visiting.
In Nigeria football scouts often visit scouting zones in Lagos State, Ibadan, Delta, Kano, Portharcourt, Jos, and some other areas.
4: Join a Football Club – How to Become A Footballer In Nigeria
Joining a football club is a way to skyrocket your career as a footballer in Nigeria.
This will help you to put your skills into good use and to be able to hunt for scouts who will eventually pick you for a foreign club or even and European club.
One such club in Nigeria is NPFL-Nigeria Professional Football League. This football club is recognized in Africa and the whole wide world. NPFL even as a working partnership with Spanish La Liga.
Most foreign clubs including the European clubs will often send their scouts or agents to watch players in the NPFL club during matches in order to get talented young footballers.
So if you perform excellently for your club in a full football calendar, you may see yourself abroad by the next season. So if you want this club to pick you then you can consider visiting their training sessions, who knows one day will be your day.
5: Develop a Marketing Strategy
To also get the attention of Agents, Scouts, and Clubs management you need to develop your marketing strategies and promotional tools.
If you do well in a club like NPFL or any Nigerian pro-club you can be fortunate enough to get a call-up to the national team and then your value will scale up to get the attention of your targeted European clubs and agents.
But should you not be that fortunate then you should plan to register and attend a scouting tournament where you can play in front of Agents and scouts.
It's is also very important and beneficial to work on promo-video clips of your recent matches or even just videos where you show off your skills.
It's a good way to make Agents interested in signing you up for a club. And even club managements want to see it before they can consider inviting you for a trial.
As part of your marketing strategy, you need to get s sports outfit to market yourself. Upload your CV or football profile, promo-video clips that you took of your football skills on places such as Youtube.
Then dig out emails and phone numbers of Agents and Scouts that you should starting sending your links to that way you might be fortunate to get picked by any of them.
Ask other professional footballers you know to introduce you to their Agents or Club Scout.
6: Be Ever Prepared – How to Become a Footballer In Nigeria
If you have followed the above steps and your skill as a footballer is great yet you have not been picked. Don't be discouraged your time will come.
Now don't wait till you are picked or called upon before you start making preparations. Preparations for what? Travel.
It is the dream of any football player to not only play locally in Nigeria as an example but to play abroad especially in the European League and to play for world-class clubs such as FC Barcelona, Chelsea, Liverpool, and the likes of Arsenal and so on.
So you have to get your travel documents ready including your International passport and any other document you will have to present to your new Clubs management when you get to the land of your dreams.
 7: Sign the Contract
There are good contracts as there are bad contracts. What do I mean? Good football contracts are those contracts that make you benefit from your passion as a football player.
You see the benefit of your hard work and you enjoy what you do whereas bad contracts tend to keep you in bondage.
You just keep training and working hard without seeing value for what you are doing as a football player.
As a young footballer who is just starting up signing a contract can be the most tempting you might feel obliged or pressured to sign the very first contract that comes your way.
But it is at this point that you have to be careful as to the football contract you sign. It is better to always a good idea to invite a lawyer to help you out with legal matters.
Your first contract will be your chance to show your skills in terms of the real game.
After that you all you need to do is to play as good as you can in order to attain new heights and meet up with your set goals.
When you sign a contract you become a professional football player and this is only the beginning of your long journey in the world of football.
Rounding Up
After taking all the necessary steps outlined and explained above there are few things you need to put in mind which be more or less a form of summary.
Remember you need to be persistent. I have repeated this many times in this blog post.
There is nothing good that comes easily. Persistence is what will help you achieve your dreams.
Then another thing I will like to add to this is you need also know yourself and which part of the field you love playing whether defending or mid-field or as a striker, that will help you know which skills and tactics you should develop more.
And mind you football is not just a male's games, so if you are a female resting this post this also applies to you. Wish you the best in your journey to become a professional football player.