How can a student get a loan in Nigeria instantly?
Hi there,
Today, I'll be showing you how a student can get a loan in Nigeria and instantly too.
In a previous post, I showed you the best ways to invest as a student and the best jobs for students in Nigeria.
Following those articles, I got a lot of requests to answer the question, "how can a student get a loan in Nigeria, instantly?"
So, I'll be taking you through that in this post. Let's go!
How can a student get a loan in Nigeria?
There are two ways that a student can get a loan in Nigeria instantly. The first is through some of the best banks in Nigeria for students.
A few of these banks give loans to students who meet certain requirements but most times, it takes some time and long processes for a student to get loans from any Nigerian banks.
The second way a student can get a loan is through fintech startups that have apps for quick student loans. This option is preferred by most students who need loans.
I'll take you through both in this article.
Which banks give student loans?
One of the FAQs on this blog is, "Which banks give student loans"?  Yes, there are some banks that give loans to students in Nigeria, although not all banks do so.
Let's see some banks that give students loans and their criteria.
GTB Student loan/ School fees advance
School Fees Advance is a loan facility designed to finance the payment of school fees for schools/institutions in Nigeria only.
This facility is available to parents who are members of staff of public and reputable private organizations whose salaries are domiciled with the Bank.
Features of GTB student loan
Up to N5 Million School Fees Advance. Maximum tenor of 4 months per request.
Very Competitive interest rate. Equal monthly repayments comprising of principal and interest.
Immediate access to funds for the prompt payment of your child/wards school fees.
Requirements to get the GTB student loan
Submit Completed Application Form and Employer Undertaking Form.
Provide School Fees bill and Credit Insurance.
Ensure that staff terminal benefit is domiciled in GTBank or obtain Corporate Guarantee.
Access Bank Student Loan
Access bank is one of the banks that gives loans to students.
The Access Bank student loan is an advance for school fees designed to provide Nigerian students with short-term loans to cover their tuition fees.
Features of Access Bank Student Loan
Ensure smooth running education for students
You can get up to ₦5 million
There is an option to refinance the loan
Remittance services are available
Requirements
A completed application forms
Your school admission letter
Tuition advice
Letter of domiciliation of your salary account or your parent's/sponsor's salary account
Copy of employment ID or valid means of identification belonging to you or your parent/sponsor
BVN
Credit checks
First Bank FirstEdu Loan
First Bank's FirstEdu loan is targets proprietors. It offers flexible funding for upgrading school facilities and meeting funding gaps pending the receipt of school fees.
Features/Requirements
It has a flexible repayment plan spread for 90 days
Access to a maximum amount of ₦10 million
The only collateral requirement is domiciliation of school fees with First Bank
The School must have been in an account relationship with FirstBank for a minimum period of 6 months or 12 months with other banks
Target markets are private schools duly under CAC and their State Government
The school population must be a minimum of 100 students
Those are some of the banks that award loans to students in Nigeria. Now, let's take you through a more quick and instant way to get a loan as a student.
Best Loan Apps for Student loans in Nigeria
Which loan app is best for students?
Apart from getting a loan directly from a bank which attracts undue process, you can also get a student loan from Apps to get quick money in Nigeria.
Mind you, these apps don't give free money, you have to repay your loan, and there are terms and conditions too.
Fairmoney loan App
Fairmoney is one of the best loan apps for you as a student in Nigeria. You can get quick loans to sort your urgent and important bills on the App. You can borrow from N1,500-5000K on it.
They give business loans and personal loans. All you need do is download the FairMoney app, sign up and follow a simple application process to get an instant loan in only 5 minutes.
FairMoney is a fast, secure, reliable, and free Android mobile banking app. They make getting loans and paying bills fast and easy. You can also earn bonus cash when you invite your friends.
Requirements for loans
You will only need to share your BVN during the loan application and connect your ATM card to authorize us to debit your account for the repayment.
Repayment
You can repay on or before your due date with a reduced interest rate.
Branch Loan App
Branch loan is an online quick loan platform that offers quick loans to students and other users of Branch loan app.
There are no late or rollover fees and no collateral necessary. Interest rates are determined by a number of factors, including your repayment history and the cost of lending for Branch. Standard SMS and data charges by your mobile carrier may apply.
Requirements
To get the loan on Branch, they do not require any collateral. All you need to get a loan on Branch is your phone number or Facebook account, bank verification number, and bank account number.
Branch uses the data on your phone, SMS messages, details of your bank account alongside the activeness of your account to decide either to give you a loan or not.
See Also: 51 Best Business Ideas for Students in Nigeria
Repayment
Branch offers flexible methods for the repayment of loans. Loans can be paid through debit card, with cash at a GT bank branch. This should be easy since most students have a GTB account.
Aella Credit App
Aella credit App is another suitable loan app for students in Nigeria. They are one of the widely known loan providers (App) in Nigeria. If you want a quick instant loan, especially if you are female, Aella to the rescue.
The whole process of applying for a loan on Aella can be completed in 5 minutes. Once your application has been completed and you accept the loan offer provided, your information will be reviewed and the decision on the loan will normally be made within minutes.
If approved, funds will be received in 5 minutes of the process is completed
They offer products and services such as loans, investments, pay bills, micro-insurance plans, and peer-to-peer donations.
Requirements for Aella loan
To get a loan on Aella, all you need is your phone number or Facebook account, bank verification number, and bank account number.
See Also: 45 Businesses to Start With 50K in Nigeria Today
Repayment
As the best convenient way to help you repay your loans, they will try to charge your card, however, If you prefer to make repayment before your due date, you can use your debit card.
To make a payment to clear an active loan, click the 'Repay/Pay now' button in the app. This can be found under the 'Your Loans' menu section in the app.
Simply tap on the card linked to your profile or select 'Add a New Debit/ATM card' if you wish to repay using a new card. Your account is immediately updated, once payment is successful.
Paylater Loan App
Another loan app best for students in Nigeria is Paylater otherwise known as Carbon.
Paylater is a loan app that empowers individuals with access to credit, simple payment solutions, high-yield investment opportunities, and easy-to-use tools for personal financial management.
Although they have they are headquartered in Lagos, Nigeria, they are a global company of over 90 employees with operations in Nigeria, England, and the United States.
See Also: 35 Business You Can Start With 50K As a Student
Alongside providing loans for individuals, PayLater platform also allows you to make payments for recharge cards, bills including your NEPA bill, and other services.
Requirements
With just an Android phone and basic requirements like phone number, BVN, you can access a loan on carbon as a student.
Repayment
Loan repayment can be done through carbon wallet, debit card, quickteller, and direct transfer.
Okash
Another best loan app for students is Okash. Okash is a subsidiary of Opay. It's one of the best apps for quick loans. Okash App is available on the Google play store for download.
Okash started operations in Kenya in 2018 before spreading out to Nigeria.
To apply for a loan with Okash app, you need to first download the mobile app from the Google play store, open the app and sign up with your phone number, fill in your personal information after login and then apply for the loan. This is how simple it is to apply for a loan using Okash.
See Also: How to start a successful blog and make money
Requirements
You can apply for a loan using your credit card
Repayments
Okash offers a pay-back plan of 91 days to 365 days (this is a flexible payment considering the days)
QuickCheck
Quickcheck is one of the best apps for getting quick loans, especially for students in Nigeria. They have been able to build a reputation for themselves over the years.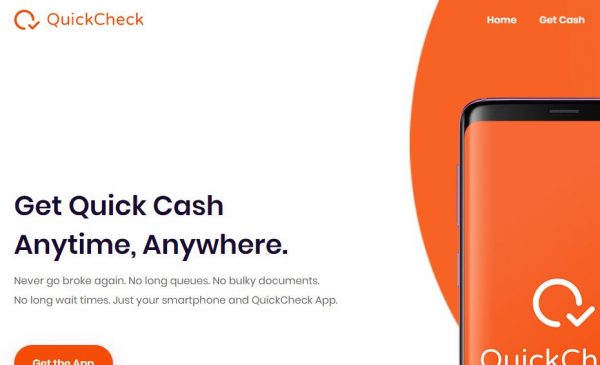 Quickcheck does not provide loans for small businesses only for individuals in need of money to keep surviving until the next payday. Now, isn't that amazing for students? It's the most appropriate loan app for students.
Requirements for loans
To get started with the loan processing on Quickcheck, the first step is to download their mobile app, sign in with your Facebook account details and fill in the necessary information in the provided box.
Repayment
To make a payment to clear an ongoing loan, click the "LOAN PAYMENT" button in the app and click on any of the debit cards you have saved to make repayment.
Bank Transfer/Cash deposit:
Account Name: Arve Ltd
Bank: Guaranty Trust Bank (GTB)
Account Number: 0266302303
USSD: You can use your bank USSD code. E.g *894#
Best loan apps for students in Nigeria
Kwik Money
Kwikmoney is a quick loan app that recently rebranded to Migo. Migo offers a simple platform to enable users to apply for loans through their website. As a student, you can apply for loans on Migo.
See Also:  21 Ways to make money as a teenager in Nigeria
To get a loan, all you need to do is simply visit Migo loan portal and enter your phone number.
After that, you will be asked the amount of loan you are requesting and then enter your bank details for easy deposit of the loan.
Can you imagine how simple it is to use Kwikmoney/Migo? They don't even require you to download any app. All processes will be carried out on the website.
Requirements for loans
As I said, it is very simple to use Migo. Only basic requirements needed.
As easy as just dialing a code the same way you borrow credit through your sim.
You can request a loan on MTN, GLO, and Etisalat by dialing *564# or by dialing *554*561# for Airtel.
Ren money
Renmoney is a fintech lending company operating under a microfinance banking license in Lagos, Nigeria. If you are a student and have a business or a source of income, this loan app suits you.
They provide loans to individuals and small businesses through our website, contact center, agent network, and branches.
You can also save with them as they are regulated by the CBN and insured by the NDIC, they also offer market-leading rates on Fixed Deposits and Savings accounts.
Requirements
To qualify for a loan from RenMoney, you have to be between the age of 25-59 years old, have a verifiable and legal source of income, have a savings account and lastly must live or work in cities they operate (and at the time of writing this post, they basically operate in Lagos).
How to make money from home in Nigeria
Repayment
Repayment on your ren money loan is very easy as you can pay through your card.
Palm Credit
Palmcredit is basically an android app that provides loans to users of the app. They are on the apps only and they do not have a website through which you can request loans.
This may not be convenient if you do not have an Android phone, but thankfully, most students do an android phone.
Palmcredit loan is limited to 18 years and above and the loan amount is within the range of N2,000 to N100,000 naira. Again, a student can apply for a loan on palm credit easily if they meet the age requirements.
Requirements for loans
You must be 18 years or above to get a loan; the loan limit ranges from NGN 2000 to NGN100,000, loan duration is between 91 days to 180 days.
7 best ways to invest in Nigeria
Loan interest is between 14% to 24% while the annual loan interest is between 48% to 56%, application is all through a mobile app, a responsive mobile app for most phones.
Repayment
You can repay your loan following the process on the App or Transfer cash directly into our Bank Account:
Account Number: 0772692676
Account Name: TRANSSNET FINANCIAL NIG LTD – CONSUMING FINANCE
Bank: Access bank
Creditville
As a student, you can get instant Online Loans in Nigeria quickly in your account as quickly as 4 hours after meeting the necessary conditions and documentation with Creditville.
Their interest rates are low and all-inclusive, ensuring transparency and we guarantee there are no hidden admin charges.
Their online loan application is easy and they grant the loans without collateral making us the ideal online loan company in Nigeria.
Requirements for loans
Creditville requires only your basic financial information. No collateral is a requirement.
Repayment
You may choose to repay your online loan in full, at any time without any penalty and you may apply for a top-up loan without a waiting period.
Kiakia loan
Kiakia loan is another app to get instant loans in Nigeria. It's a swift, smarter, and more convenient place to safely borrow and securely lend out real-time.
They give you access to personal and small business loans and also enable you to safely lend out funds at unbeatable interest rates.
The name kiakia literarily means instantly.
You can get instant loans via their website. Lenders are also welcome as they can give loans to borrowers on the platform.
Requirements for loans
Basic financial information, i.e. BVN
ROUNDING UP
As always, if there is anything I didn't touch on in this post, feel free to let me know in the comment session.
Also, let me know if there is anything you want me to talk about in the blog or my YouTube channel.
Follow us on Twitter and Instagram. Subscribe to my YouTube channel and don't miss out on our awesome content there.
CHEERS!
Do you want to make money right from your campus and start building a successful life from school?