Biography of Burna Boy (2023)
This is the full biography of Burna Boy, a Grammy award-winning music artist who had a great musical career.
He has traveled to different countries throughout his musical career. 
Read through as I share with you everything about Burna Boy that you should know. 
Biography of Burna Boy – Background
Burna Boy's biography is a true definition of hard work, grit and willpower. From a young age, he has always known that music is his path in life. 
See Also:  Biography of Ayra Starr
Back in 2002, he started making looped beats on fruity loops software installed on his mother's old desktop.
These beats sparked up the Afro-pop star in him.
Beat by beat, he garnered a voice to become one of the most sought-after Nigerian singers, producers, songwriters, and Grammy-award-winning artists.
In 2012, Burna Boy gained fame with his hit track "Like to Party".
5 years later, He signed with Bad Habit/Atlantic Records in the US and Warner Music Group globally.
Burna Boy's musical journey is a testament to his unique style and unapologetic personality, which have set him apart in the music industry.
Biography of Burna Boy – Burna Boy's Profile
Name: Damini Ebunoluwa Ogulu

Known as: Burna Boy

Date of Birth: July 2, 1991

Gender: Male

Birth Place: Port Harcourt, Rivers State, Nigeria

Age: 32

State Of Origin: Rivers State

Country of origin: Nigeria

Source Of Income: Music (Singer-songwriter, Producer)

Matrimony: N/A

Net Worth: $60million 

Religion: Christianity

Education: He attended Montessori International School and later Corona Secondary School, both in Lagos.

Twitter: @burnaboy

Instagram: @burnaboygram

Facebook: @BurnaBoy

Astrology: Cancer

Father's Name: Samuel Ogulu

Mother's Name: Bose Ogulu

Siblings: He has two sisters, Nissi and Ronami Ogulu.

Weight: N/A

Height: 6'3″ (190 cm)

Size of Shoes: N/A

Hair Color: Black

Eye Color: Dark Brown

Body Dimensions: N/A

Marital Status: Single

Children: N/A
Biography of Burna Boy – Family Background
Burna Boy comes from a family with a strong connection to music.
His grandfather, Benson Idonije, was a well-known music critic and manager to the legendary Afrobeat musician Fela Kuti.
Burna Boy's mother, Bose Ogulu, also known as Mama Burna, plays a significant role in his music career. 
managing his affairs and guiding him through his musical career.
Burna Boy's family background has undoubtedly influenced his musical journey.
Growing up in a family with ties to the music industry has contributed to his understanding of music and its cultural importance.
It's clear that his upbringing and family connections have played a role in shaping his identity as an artist and his unique blend of genres in his music.
Biography of Burna Boy – Parents
Burna Boy was born to Mr. and Mrs Samuel Ogulu, and His father 
Samuel, managed a welding company while running a side hustle, managing a talent agent, and working with musicians and artists.
He did this alongside his in-law, Burna Boy's maternal grandfather Benson Idonije who formerly worked with the legendary  Fela Kuti, back in the 80's.
His mother who is Mrs. Bose Ogulu, also known as Mama Burna, once had a job as a language translator until her boy's rise to fame.
She then switched to managing his son's musical career.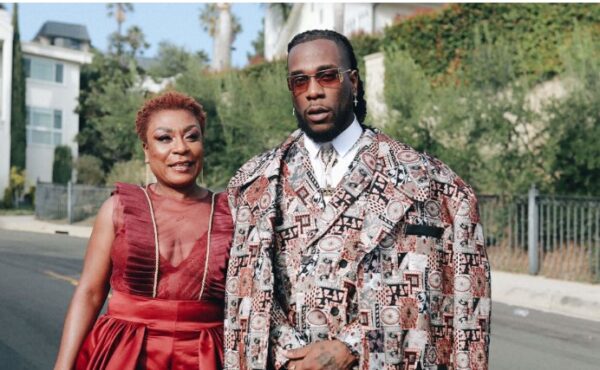 She has impacted an indelible difference in Burna Boy's life. 
To this day, She is still his manager, guiding him through the stages of his music journey.
Biography of Burna Boy – Siblings
Burna Boy, being the only male child of his parents, has two sisters, Ronami and  Nissi.
As teenagers, they all attended Corona Secondary School in Lagos, Nigeria. Later, they moved to the UK to complete their studies.
The eldest sister Ronami Ogulu, is a fashion designer, stylist and Talent Manager.
She organizes Burna Boy's tour's, styling his appearances in shows and manages his wardrobe.
His kid sister Jehovah- Nissi is the last born of his family.
She is a singer, content creator and songwriter.
She studied Mechanical Engineering and further added a second degree in Digital Design at Warwick University, UK.
Rumor has it that she loves popcorn so much. Burna Boy's family ties are important to him and have contributed to his artistic identity.
Biography of Burna Boy – Education
Burna Boy went to Corona Secondary School in Agbara, Ogun State. He then moved to London, England, to continue his studies.
He pursued A course in media technology at the University of Sussex between 2008 and 2009.
And later studied media communications and culture at Oxford Brookes University from 2009 to 2010.
After completing his studies, he returned to Port Harcourt, where he embarked on a year-long internship at Rhythm 93.7 FM. 
Having gathered all this knowledge, he kickstarted his music journey upon his return to Lagos. You can also read the biography of Tems, Nigerian singer and songwriter. 
His education played a part in shaping his worldview and influencing the themes he addresses in his music.
Biography of Burna Boy – Career
Burna Boy's Hit studio album, titled "L.I.F.E," made its debut on August 12, 2013, serving as his main Jab after his second mixtape "Burn Identity" from 2011.
When he first released this album,  it sold out 40,000 copies right there on its opening day. This was a good sign that Aristokrat Records had struck gold.
They (Aristokrat Records) later transferred its marketing rights to Uba Pacific for ₦10 million.
Mid 2014, Burna Boy association, ended its deal with Aristokrat Records and set out to start his own Record Label, which he called 
Spaceship Entertainment.
On January 19, 2018, Burna Boy collaborated with the American rock band Fall Out Boy, contributing to their track "Sunshine Riptide," which was part of their seventh studio album, Mania.
Exactly one week later, on January 26, 2018, he dropped his third studio album, "Outside," 
which made its debut at number three on the Billboard Reggae Albums chart.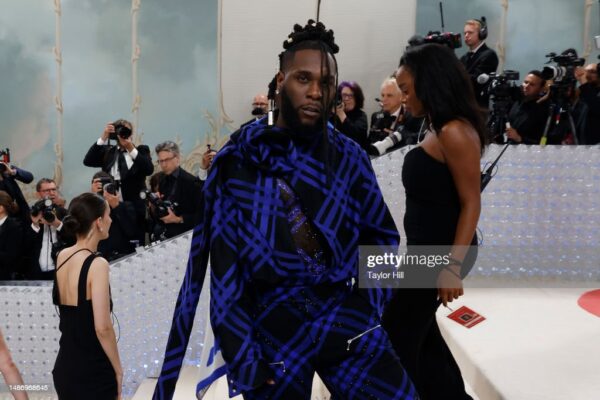 On October 7, 2018, Burna Boy took the stage to perform for a sold-out audience at London's O2 Academy Brixton.
At the Soundcity MVP Awards Festival, Burna Boy scooped up four awards, including African Artiste of the Year, Listener's Choice, and Best Male MVP.
By March 21, 2019, he released a collaborative 4-track EP called "Steel & Copper," which Burna Boy worked on with the Los Angeles-based electronic duo DJDS. That same year, BET awarded Burna Boy the title of Best International Act on June 24, 2019.
Burna Boy's album, a labor of love that began its recording journey in 2018, was supported by six singles: "Gbona," "On the Low," "Killin Dem," "Dangote," "Anybody," and "Pull Up."
Also, Burna Boy created the track "My Money, My Baby" for inclusion in the soundtrack album of "Queen & Slim." This Afrobeat-tinged song samples Fela Kuti's 1972 track "Shakara."
By June 19, 2020, he had joined forces with South African producer Master KG, contributing to the remix of the widely popular track "Jerusalema."
His fifth studio album, Twice as Tall, hit the shelves on August 14, 2020.  Twice as Tall earned a nomination for Best Global Album at the 63rd Annual Grammy Awards held on November 24, 2020. 
This marked Burna Boy's second consecutive year of recognition in this category. Gaining momentum, Burna Boy secured an Edison Award in the World Album category for African Giant.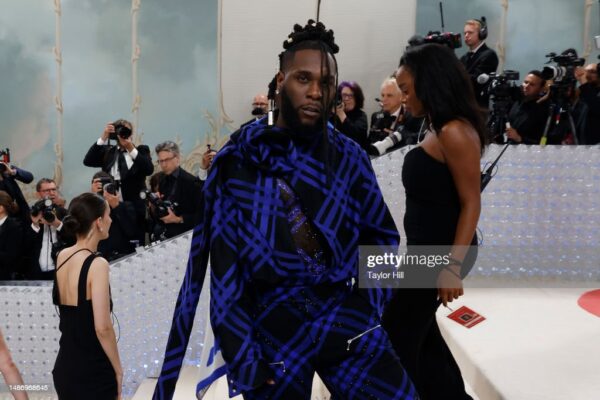 He clinched the title of Best International Act at the MOBO Awards on December 9, triumphing over formidable contenders like Drake, Megan Thee Stallion, Lil Baby, and Roddy Rich.
March 15, 2021, brought triumph as Burna Boy won the Grammy Award for Best Global Music Album at the 63rd Annual Grammy Awards.
In April 2023, Burna Boy released a song titled "Mera Na" featuring Sidhu Moose Wala, paying tribute to Sidhu. The song achieved global success, charting on Billboard Global 200, Canada Hot 100, and New Zealand Hot Singles chart.
On June 10, 2023, Burna Boy made history as the first African artist to perform at the UEFA Champions League Final Kick-Off Show sponsored by Pepsi. 
He graced the stage at Istanbul's Atatürk Olympic Stadium, captivating an audience of over 71,412 attendees and more than 700 million viewers worldwide.
Burna Boy's influence in Afrobeats is undeniable, as he now leads Spotify's list of all-time top 10 Afrobeats artists globally. 
This recognition comes from one of the world's most renowned music streaming platforms, with Burna Boy securing the prestigious number-one position.
Biography of Burna Boy – Burna Boy and JoPearl
Nigerian music sensation Burna Boy faced social media dragging by a woman named JoPearl. 
She claimed that despite Burna Boy's relationship with British rapper Stefflon Don, she had been dating Burna Boy for the past two years.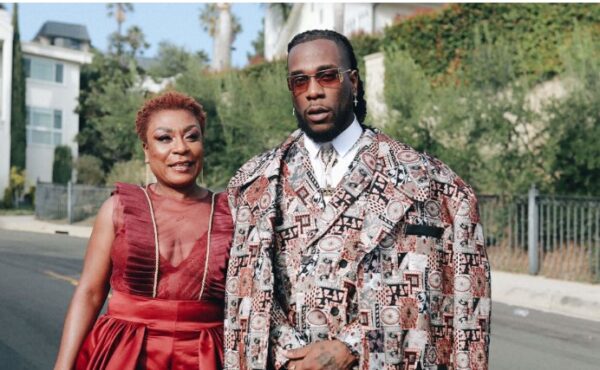 Through Instagram videos, JoPearl emotionally showed how she and Burna Boy connected and developed their relationship.
According to her, Burna first contacted her via direct messages, and after some time, she responded due to a friend's encouragement.
However, things changed around November when Burna had to travel to Nigeria ahead of upcoming shows in December.
She recalled how Burna had spoken of a future together, including marriage and children.
In January, JoPearl discovered online that Burna was in a relationship with Stefflon Don. She said she felt Burna's relationship with Stefflon was a publicity stunt. 
And that was why she resumed contact with Burna Boy even after knowing that Stefflon Don was in his life. Although she still cared for Burna, she decided to share her story to break free from the emotional cycle.
From her views, discussing these feelings after two years might seem overdue, but the pain of seeing him hurt her deeply made her share her secret love story with Burna Boy on social media.
Biography of Burna Boy – Burna Boy and Stefflon Don
Burna Boy publicly revealed his feelings for Stefflon Don in an interview, making it known that she was his "wifey" and the perfect match. 
However, things took a turn when Burna Boy officially ended his three-year relationship with Stefflon Don, a British-Jamaican rapper and songwriter.
In response, Stefflon Don posted on Twitter, "Fame and money can change people, true colors will eventually show."
From her experience, she thinks believing actions over words will save people a lot of heart attacks. Their relationship had gained attention due to allegations of cheating and other controversies on social media.
While the exact timing of their breakup remains unclear, reports suggest it followed claims by Jo Pearl, a London-based voluptuous model, who stated she was double dating Burna Boy while he was still dating Stefflon Don.
Biography of Burna Boy – Personal Life
Burna Boy's personal life is marked by his authenticity and strong connection to his African heritage. He often uses his platform to speak out against social injustices and to advocate for positive change in Nigeria and beyond.
Awards and Recognition
Burna Boy's music has garnered numerous awards and recognition, including several BET Awards, MTV Europe Music Awards, and a Grammy Award for Best Global Music Album in 2021 for his album "Twice as Tall."
Biography of Burna Boy – Net Worth
Burna Boy's net worth was estimated to be 60 million dollars, thanks to his successful music career, endorsements, and international tours.
Backstory 
In an interview, Burna Boy shared insights into his upbringing, influences, and the factors that led him to pursue a career in music.
Growing Up
Burna Boy revealed that growing up, he was exposed to a wide range of music genres, thanks to his grandfather's influence. This exposure helped shape his unique sound that draws from different musical styles.
Attraction to the Music Industry
Burna Boy was first attracted to the music industry because he recognized its power to influence people's emotions and opinions. He saw music as a way to express himself and make a positive impact.
Biography of Burna Boy – Epiphanies
Burna Boy discussed how he experienced the "Turning point moment" throughout his life that guided him toward his musical path. 
These moments of realization solidified his passion for music and his commitment to using his platform for positive change.
Addressing Syndromes in the Music Industry
Burna Boy acknowledged that the music industry can be exclusive and competitive. He believed that the lack of unity among artists is a contributing factor to this issue.
Advocacy and Public Attention
Burna Boy explained that he felt a responsibility to address societal issues through his music. 
His desire to shed light on injustices and advocate for change motivated him to use his platform to make a difference.
Biography of Burna Boy – Standing Out in the Industry
Burna Boy emphasized the importance of staying true to oneself and creating music that is authentic. 
He believed that being genuine and consistent is key to standing out in an oversaturated music industry.
Brand partnerships
Burna Boy mentioned working with various brands over the years, contributing to his financial success. 
He didn't single out a favorite partnership but appreciated the opportunities to collaborate with different companies.
Defining success
For Burna Boy, success was defined by the positive impact he makes on people's lives and the change he brings to society.
In his words, 
"It's not solely about fame and wealth but about leaving a legacy of meaningful contributions." 
Rounding up 
The biography of Burna Boy is a testament to his musical genius, authenticity, and commitment to making a positive impact through his music. 
From his family background to his rise in the music industry, he has overcome challenges and used his platform to advocate for change.
His story continues to inspire aspiring artists and those who believe in the power of music to drive social change.