Ibadan was sizzling hot yesterday as Adewole Ajala Isaac of Glad Stitches made
a statement with his designs, Adewole who is a graduate of English but has been
so passionate about entrepreneurship and fashion stated that he has always loved
making people glamorous, making people fashionable. Hence, why the name
GladStitches.
Adewole Isaac said he has been particularly interested in fashion, this introduced
him to the world of the runway and he had never looked back since then.
He is very popular on the runway, he has been designing runway clothes for over
five years, but this year was extremely different, this year he decided he wanted
a mix of culture and contemporary, so he made the theme of this year's fashion
show "culture and contemporary".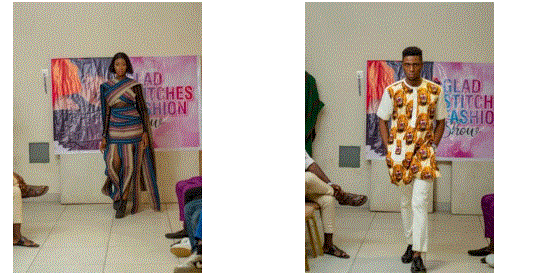 He stated that he has always wondered how it
would feel if we could wear our native attire as our day to day cloth.
He said he's always wondered what it would feel like to wear Agbada traditional
Nigerian wear to work on a Monday morning, he's always been fascinated about
how the blend would go, and how the mix would work, so he said for this year's
fashion runway theme he wanted something that holds onto the African- Yoruba
tradition but still a little bit of modern contemporary lifestyle.
He said this year's theme is all about reinventing our culture and re-introducing
it to the younger generation, who might not know much about it, but he didn't
want to come off with the big bold cultural attire, he wanted something that the
lady of today would look at and and be like " I can wear that, I can rock that to
work" but still it's a piece of the culture.
He wanted a mix of the culture with the modern style, for the designs for this
year's runway and it's been successful. He said he has made lots of sales, and
lots of orders are coming in from the fashion show attendees and a whole lot of
the crowd appreciated the designs, and he is extremely glad and happy that he has
been able to achieve this.
He has always been stylish, and so particular about his styles and designs and
he's always said that while he was young, no matter what he chose or what design
he has in mind, once he gives it to his designer, most of the time it doesn't come
out the way he wants it to be, so this also intrigued and brought a curiosity as to
what's going on? what's wrong?, why don't they get my designs? why don't they
do it the way I wanna do it?.
He stated that this brought out the passion in him to want to make something perfect for the modern stylish lady or man of this
generation.