This category features the biographies of the most inspiring young people in Nigeria and Africa to motivate the younger generations. Today, we bring you the interesting biography of Oloye Akin Alabi.
Biography of Oloye Akin Alabi
Oloye Akin Alabi stands out among his peers as someone who is looked up to by thousands of Nigerian youths as a role model, a hero, a teacher, and a helper.
Akin Alabi not only wields a very strong influence on social media, indeed he strikes as an exemplary visioner who works hard to make his dreams come true, one naira at a time.
See Also: Biography of Sijibomi Ogundele founder of Sujimoto
An average Nigerian sees themselves through Akin Alabi's story of struggles and successes and even though it might sound cliché, his is a typical case of "if Akin Alabi can do it, then I can too" for many Nigerians.
About Oloye Akin Alabi – who is Akin Alabi?
Oloye Akin Alabi is a Nigerian politician, successful serial entrepreneur, author, philanthropist, and influencer. Indeed, he wears many hats. He is the author of the business and marketing book, Small Business Big Money and How to sell to Nigerians, both topping the charts on bookshelves in Nigeria and beyond.
Otunba Akin Alabi, as he is popularly known is also the founder of NairaBET.com, a foremost and leading sport betting company in Nigeria.
Otunba Akin Alabi's growing up and childhood
The Nairabet CEO, Akin Alabi hails from Oyo State, Nigeria and he was born in Ibadan. He was born on 31 March 1977. He is the last child of the family born to the chief and chief Mrs. Chief and Chief (Mrs.) Adediran.
Alabi Akin was not born with a silver spoon, so growing up for him had its own many challenges.
As a young child, Akin only had one dream – he wanted to become a very wealthy person.
See Also: Biography of Ayra Starr 
While other kids wanted to become doctors or engineers or lawyers, Akin didn't know if he would become any of those, but one thing was certain, he wanted to become very wealthy.
And wealthy he has become. With his array of businesses and how he continues to harness his skills and passion, coupled with his flourishing political career, Otunba Akin Alabi is indeed a rich young man.
Akin Alabi's net worth is said to be estimated at $75 million.
Akin Alabi's Education and schools attended
Akin Alabi had most of his education in Nigeria before furthering his education in the UK and US. He attended Command Children School, Ibadan, Oyo state before proceeding to the Federal Government College, Enugu for his primary and secondary education respectively.
After many failed attempts at JAMB to secure an admission at a university in Nigeria, Akin opted for The Polytechnic Ibadan.
See Also: How to read, understand and pass any examinations
At Poly Ibadan, he studied Business Administration and obtained his Higher National Diploma, and graduated in 2001.
Still, with an unsatisfied thirst to acquire more education and become better positioned to attract all opportunities that lie ahead, he proceeded to study Marketing at the University of Liverpool, UK.
Akin also holds a certificate in Intellectual Property Strategy from Harvard University, Boston, US.
Akin Alabi's Business career
Akin Alabi started out early as a business-oriented and entrepreneurial dude. He launched his business career in 2003 after he had graduated from school.
See Also: Biography of Nigerian Actor Kunle Remi
He had tried getting a visa to move to Canada in search of greener pastures as was the trend then among many Nigerian youths – this desire to relocate is even more present in Nigerians now more than ever!
Unfortunately, or fortunately, the would-be millionaire in dollars was denied Visa. But he didn't just move away from the experience just like that.
During his application, he had learned a lot of things and he knew many Nigerians were looking for these pieces of information so they could successfully apply and get Visas.
Otunba Akin Alabi's first businesses
So, Akin Alabi switched to work mood and started putting all he had learnt together. He searched everywhere on the internet for information on the subject matter and gleaned it all together.
With all the information collated, he was ready to launch his first information product – the Canadian Visa Package.
See Also: Biography of Omah Lay – what you should know
The product was a hit. Alabi sold over 100 copies at the rate of N10,000 ($28) per copy. This success in Akin Alabi's first business signaled Nigerian's hunger for information and knowledge and he keyed into it.
He later put together his experience in selling his first guide and turned it into another information product, then it was time to register his business with CAC.
After going through the process of registering a business in Nigeria without the help of anyone, he thought to teach many other entrepreneurs the same process, hence another product to make money from.
After making some money from his business, Akin decided to travel to the UK. It was there he stumbled upon his next big and life-changing business idea – the sports betting business.
The birth of Akin Alabi's NairaBet – How it started
His brother had invited him to bet on a sports betting platform in the UK, so he did and made some money from it. He did again and still made money. That was when he decided that there must be a large number of Nigerian youths who would love to win money from sports betting.
So, he sat down and wrote on a paper how to make money from football betting. He put this online, spending some money on advertising it. Again, it was a huge hit.
See Also: Full Biography of Alex Ekubo
Nigerians would want to bet as much as $100-$750 on those foreign betting platforms and this was very interesting to him.
In an interview with Forbes, Akin Alabi was quoted to have said, "So I got thinking, these people are actually sending money to me abroad to place bets for them. Isn't there anyone in Nigeria that has a business like this? And there was no one. So, I said to myself 'I have to create this platform'.
That was how Nairabet was started. Nairabet became the first indigenous online bookmarker.
How Akin Alabi's NairaBet started
In 2009, NairaBet, founded by Akin Alabi officially began operations. He saw the huge market for the sports betting business in Nigeria, a country with teeming youth who not only sports but are looking for ways to make money and lift themselves out of the endemic poverty in Nigeria.
See Also: Biography of Bukunmi Oluwashina
Today, Nairabet has over 1,000 outlets across Nigeria is one of the most visited sports betting platforms in Nigeria frequented by Nigerian youths.
Akin Alabi as an author- Akin Alabi's books
Otunba Akin Alabi has not only successfully built Nairabet, he has other businesses going for him that also bring some money to his bank account. Akin Alabi published his first book titled, Small Business Big Money: How to Start, Grow and Turn Your Small Business into a cash-generating machine.
The book was a success as he sold lots of copies to many Nigerians who are looking for how to make money from doing business.
He has also published a newer book that still explores the theme of business especially making money online in Nigeria.  The book is titled: How to sell to Nigerians. The book is selling fast in Nigeria already.
Akin Alabi's Political career – Is Akin Alabi a politician?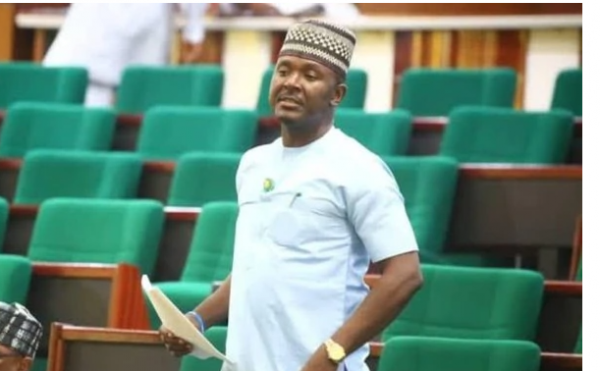 Akin Alabi's desire to impact more people moved him to try his hands at politics in Nigeria. On June 20, 2018, Otunba Akin Alabi announced that he will be stepping down as the CEO of Nairabet to concentrate on his political campaign.
In won the elections as a member of the house of representatives representing the Egbeda/Ona Ara Federal Constituency in Oyo State.
Otunba Akin Alabi as a philanthropist
Because of his love for helping people and empowering the less privileged, Akin Alabi established the Akin Alabi Foundation, an NGO that is aimed at improving the well-being of average Nigerians.
Akin's foundation has successfully implemented projects like building and donating classrooms to primary schools, the sinking of boreholes in areas where there is a scarcity of water, and financial empowerment of widow.
The foundation has also provided free business and career-building events called Youth Enterprise Conference, held annually at Eko Hotel and Suites, Victoria Island, Lagos.
Akin Alabi's wife
Akin Alabi has not only recorded success as a businessman, but he is also a successful family man. The name of Akin Alabi's wife is Damilare. She is also an information market and that remains much known about Akin Alabi's wife. Akin Alabi and his wife are blessed with children.
Akin is also a football fan. He is a fan of the Shooting Stars Sports Club (3SC) of Ibadan which his company, NairaBET sponsors. He is also a fan of Manchester United FC where he is a season ticket holder.
Akin Alabi's recognitions and awards
Otunba Akin Alabi has won many recognitions for his good works. Among them is the title of the Mogaji (Head) of Ajiwogbo compound in Ibadan. He was appointed by the Olubadan of Ibadan, HRH Saliu Adetunji (Ajeoguguluso1) on Monday December 5, 2016
He is the national vice president of the Information Marketers of Nigeria Association. He is also the President of the National Bookmakers Association.
In recognition of his philanthropic work, he was honored with the chieftain title as the Otunba Atunlushe of Igbole Ekiti by the Olugbole of Igbole Ekiti, HRM Oba Emmanuel O. Ajayi Adetiloye II.
Akin Alabi's net worth
With NairaBet and his array of other businesses, Akin Alabi is indeed a rich young man. Although we do not have a confirmed figure from him, the information available on the internet is that Akin Alabi's net worth is estimated at $75 million – dollars. That's some whopping amount of money there.
Only a few other young and successful entrepreneurs in Nigeria can boast of Akin Alabi's success. He is indeed an inspiration for many young Nigerians and Africans at large.