When you come across Alexx Ekubo for the first time, his talent may not be the most striking to you, but one thing that you can't but notice is his damn good looks.
In fact, many who have seen Ekubo have often said that he looks far more handsome in real life and that his pictures hardly do justice to his looks. Little wonder his female fans keep nurturing fancy hopes in vain.
Enough of the mundane stuff, who really is Alexx Ekubo?
See Also: Full biography of Kunle Remi
Alexx Ekubo is one of the leading and popular figures in the Nigerian entertainment industry and movie industry – Nollywood.
He is an actor, model, master compere, movie producer, media personality, and brand influencer with millions of followers on Instagram and other social media platforms.
See Also: Biography of Omah Lay
He is also referred to as "Johnny" from the popular Yemi Alade Song "Johnny" which has close to 100 million views on YouTube, thereby making it the most-watched music video out of Africa.
His good looks, fashion sense, and great sense of humour are some of the qualities that many fans especially female fans admire about Alexx.
See Also: Biography of Akin Alabi
Over the years, Ekuba has successfully built his career in acting through hard work, persistence, and by diligently honing his skills and talent. Below are details about Alexx Ekubo's biography.
Biography of Alexx Ekubo – Background and place of birth
Alex Ekubo was born Alex Ekubo-Okwaraeke on 10 April 1986 is a Nigerian actor and model.
He was born in Port Harcourt where his family lived at the time and where he had his formative years as a child growing up. However, Alexx Ekubo originally hails from Ujari Village, Arochukwu, Abia state Nigeria.
Growing up, Alexx Ekubo had the opportunity to travel to live in different parts of Nigeria as a result of the nature of his dad's job. This afforded him the opportunity to be a fluent speaker of Igbo, Hausa, and English languages.
Biography of Alexx Ekubo – Siblings and family background
Alex Ekubo-Okwaraeke was on 10th April 1986 into the family of Mazi Alex Ekubo – an oil marketer and Jane Ekubo-Okwaraeke – a businesswoman and a fashion designer.
Alex is from a family of five with three adorable siblings.  He grew up in a close-knit family.
Growing up, his family at first lived in Port Harcourt.
However, due to the nature of Alexx dad's job, the family later moved to Kano and then to Lagos.
Biography of Alexx Ekubo – Career
Ekubo started kicked started his career in film with a debut that was a minor role in Lancelot Oduwa Imasuen's Sinners in the House (2005).
See Also: Biography of Sujimoto
A few years after, he saw a major breakthrough in his modeling career when in 2010, at 24, Alexx Ekubo became the second-runner up in the Mr. Nigeria contest.
The Mr.Nigeria platform helped Alex to reach a wider audience and helped him to advance his movie career. The actor still represents different brands on the runway, thus juggling modelling, acting and numerous other endeavours, little wonder Alexx Ekubo is worth over $1million.
His first major role in Nollywood was in Ladies Men several years after his debut in 2005.
Alexx Ekubo's movies
Alexx Ekubo is many Nigerians' favourite actor with his unique sense of humour in movies and how he interprets his roles seamlessly.
From the notorious playboy character to the sweet lover-boy or street gang-star, Ekubo has played so many intriguing roles in his movies and no doubt, he usually nails all his roles.
Alexx Ekubo has featured in over 80 films since his debut in 2005 as an undergraduate at the University of Calabar. Some of the movies Alexx Ekubo has appeared in since he started his career as a Nollywood actor include but no way limited to:
Aina – 2011
True Citizen – 2012
In The Cupboard – 2012
Dream Walker – 2013
Lagos Cougars – 2013
Keeping My Man – 2013
Champagne – 2014
Gold Diggin – 2014
Single, Married and Complicated – 2014
Undercover Lover – 2015
The First Lady – 2015
Entreat – 2016
Death Toll – 2016
Diary Of A Lagos Girl – 2015
The Other Side of The Coin – 2016
3 is a Crowd – 2017
Bling Lagosians – 2019
Your Excellency – 2019
Biography of Alexx Ekubo – Education and Academic qualifications
Alexx Ekubo had all his formal education in Nigeria. He had his primary and secondary education in Kastina.
As a child, Alexx attended K.Kotun Nursery and Primary school, Lagos, before proceeding to Katsina State where he had his secondary education. Alexx Ekubo attended Federal Government College Daura in Katsina State.
He furthered to the university of Calabar where he had his tertiary education and studied law. He graduated in 2008. He went back to the University of Calabar in 2015 to bag a degree in Theatre Arts.
Biography of Alex Ekubo – Alexx Ekubo married
Even though a lot of female fans have their eyes on Ekubo, he is a mature man who may soon be getting married.
For now, however, Ekubo has not officially announced himself as a married man and we have no evidence to suggest that Ekubo is actually married.
Alex Ekubo Engages His Long Time Girl-Friend
Alex Ekubo will be walking down the aisle soon after the Nollywood actor proposed to his longtime love, Fancy Acholonu over the weekend of first week of May 2021.
After she accepted, the Fancy took to her Instagram to share the good news. "…& I said YES to the Love of my life @alexxekubo 💍❤️ #Falexx."
Biography of Bukunmi Oluwasina
Fancy Acholonu is a model and actress from Los Angeles whose parents are Nigerian. She was raised in Nigeria and schooled in the United States.
She owns many companies, including a jewelry company and 'The Fancy Kidz,' which offers modelling and acting workshops for children.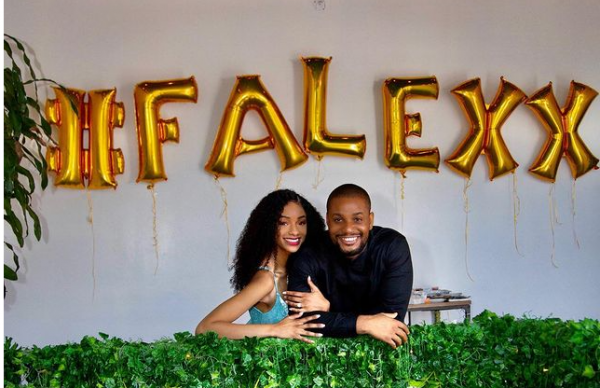 Congrats to the couple!
Alex Ekubo and Fiancee Fancy Acholonu announce wedding date
The announcement broke the internet as the duo had kept their relationship private, prior to the announcement.
Now that the public is aware, Alexx Ekubo took to his Instagram page on Saturday to thank his fans for their congratulatory messages and share hints on his wedding date.
"On Monday 10th May, we would be officially announcing our wedding dates, happening this year," the actor revealed.
The actor on Monday announced his wedding date with his fiancée.
The traditional wedding will hold in Imo state on November 21, 2021, while the white wedding will hold in Lagos on November 27, 2021.
Is Alex Ekubo an Igbo guy?
This is one of the questions asked about Alexx Ekubo. A lot of people want to know if he is an Igbo guy or from other parts of the country. Yes, Alexx Ekubo is an Igbo guy and he hails from Arochukwu in Abia State eastern part of Nigeria.
Is Alex Ekubo from Akwa Ibom?
A lot of people wonder if Alex Ekubo is from Akwa Ibom. This may be due to some roles he has played in his movie or the fact that he schooled at the University of Calabar. But Alex Ekubo is not from Akwa Ibom. He is an Igbo guy from Abia state.
Alexx Ekubo net worth
Alexx Ekubo is said to currently worth $ 1.2 million, an equivalence of N600 million.
Although this figure has not been confirmed by him, it is hardly surprising as the actor has many streams of income including but not limited to acting, brand ambassadorship, MC, producer, etc.
Alexx has been the face of several major brands and has been awarded and recognized by the First Lady of the Federal Republic of Nigeria for its best contribution to the development of Nigeria's entertainment industry.