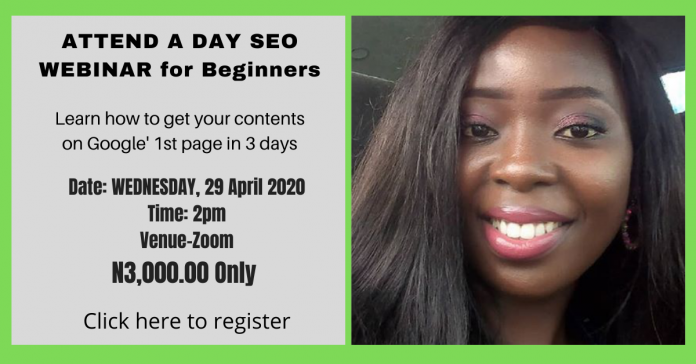 ATTEND A DAY SEO WEBINAR FOR BEGINNERS.
This is the ultimate Webinar for staters who want to learn the tricks of SEO.
Learn how to land your web content on Google's first page in 3 days.
By attending this webinar, you will learn:
INTRODUCTION TO SEARCH ENGINE OPTIMIZATION
Search Engine Optimization demystified
Why create Search Engine Optimized contents
PROVEN SEO TACTICS FOR STARTERS
How to improve visibility through headings
Maximizing the use of Meta tags
How to create masterpiece killer content body
BASIC KEYWORD RESEARCH TRICKS AND TACTICS
How to generate high-ranking search keywords
Using long-tail keywords to attract traffic
Keyword Stuffing versus keyword usage
SIMPLE CONTENT STRATEGIES THAT WORK
Creating quality content lengths
How to engage and keep your audience coming back
Capitalizing on statistics and facts
Linking – using Inbound & Outbound Links
OPTIMIZING SEARCH ENGINE THROUGH STORYTELLING
How to drive traffic through storytelling
Storytelling tricks and tactics that work
Storytelling dos and don't
And Lots more.
Register here