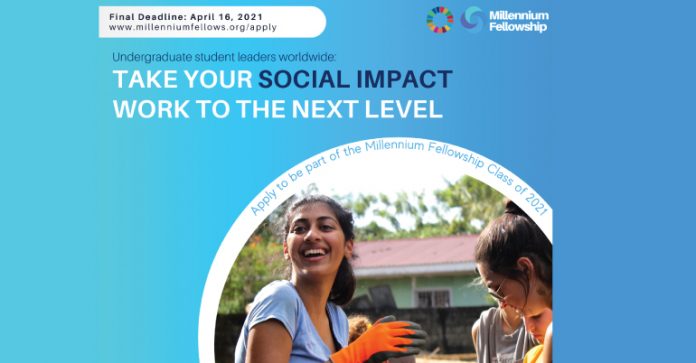 The United Nations Academic Impact and MCN proudly present the Millennium Fellowship.  This program convenes, challenges, and celebrates bold student leadership advancing the Sustainable Development Goals on campus and in communities.
As a Millennium Fellow, you will hone skills, take concrete action, and earn a certificate of recognition from United Nations Academic Impact and MCN.  There is no cost for selected students.  Undergraduate leaders should apply as soon as possible (rolling admissions through April 16th, Class of 2021 will run August-December 2021).
See Also: Apply for MEET Africa Entrepreneurship Program
The Millennium Fellowship is a semester-long leadership development program that happens on your campus. The United Nations Academic Impact and MCN are here to elevate your leadership.
 Eligibilities
Must be an undergraduate student in good academic standing for the duration of the program.
Must be at least 18 years old.
Commit to 10 meetings with your Campus Directors and Fellows over the course of the program.
Working or plan to work on a project between August-December 2021 that advances at least one Sustainable Development Goal.
See Also: Apply for Young Social Entrepreneurs (YSE) 2021 Opportunity
Get updates on opportunities like this and other amazing content, follow us on our social media platforms: Facebook/ Twitter / Instagram /YouTube.
Eligible Regions: Open for All.
 APPLICATION PROCESS
Applications are accepted on a rolling basis (fellowships are competitive; early application is encouraged)
Priority Application Deadline: January 31, 2021
2nd Priority Application Deadline: February 28, 2021
Final Application Deadline: April 16, 2021
Deadline: April 16, 2021