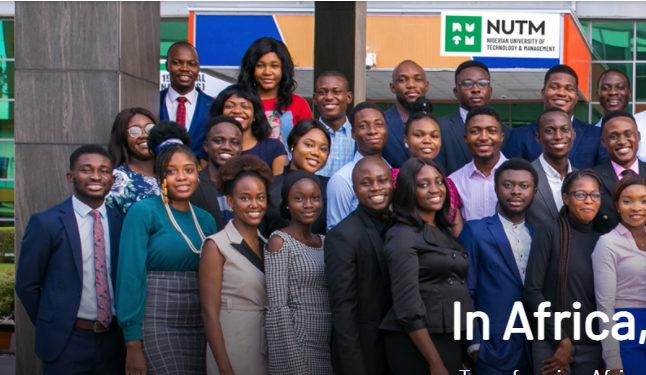 The NUTM Scholars Program (NSP) is a one-year, full-time, fully funded, interdisciplinary postgraduate program in Nigeria with a focus on Technology, Entrepreneurship, and Design. The program is delivered by high-quality global and African faculty and has experiential learning and industry mentorship at its core.
The NSP intends to groom stellar young leaders from diverse backgrounds across Africa to be change agents for the region and the world.
The program hinges on a cutting-edge curriculum in technology and management, experiential learning, and industry mentorship. Some of the key features of NSP include:
See Also: Apply for UNESCO Clubs World  Yout Multimedia Competition
·         Global faculty: Lectures and workshops by leading faculty from Africa and beyond
·         TEDLab: Solve real-world problems through an entrepreneurship capstone
·         Shadow a Leader: Full-time associate roles supporting executives of leading organizations
·         Industry Mentorship: Guest lectures and mentorship from eminent leaders and entrepreneurs
·         Global Immersion Week (subject to covid situations): Short international immersion in a leading or emerging economy
Qualifications:
See Also: International Essay Contest 2021 for Young People
·         Maximum of 32 years of age
·         A recognised undergraduate or postgraduate degree in any discipline
·         High level of intellectual curiosity and leadership potential
·         Interest in Africa and awareness of emerging global trends
How to apply:
NSP accepts applications till 01 June 2021 but we encourage you to start your application soon. Complete the online application form by visiting https://app.nutmng.org/ and provide information on your background, education, work experience, interests, and motivations.
For more details about eligibility requirements and the application process, please visit https://nutmng.org/nutm-program
About NUTM:
The Nigerian University of Technology and Management (NUTM) is a pioneering higher education initiative, founded to nurture the next generation of leaders in technology and management.
NUTM envisages a promising future for the youth of Nigeria as well as the larger African region by providing them with high-quality education – in Africa and for Africa. The University aspires to prepare future generations to be ready for the workplace as well as the world.
To equip them well, the NUTM incorporates entrepreneurship, innovation, design, critical thinking and communication as part of its core pedagogy.
Warm regards,