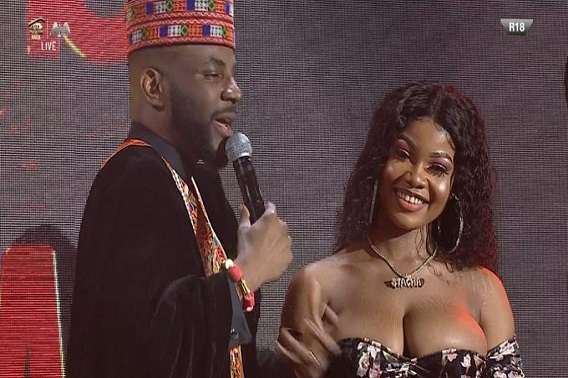 Reasons Tahca Won't Win BBNaija 2019 pepper dem
Hate it or like it, Tacha definitely has lots of fans rooting for her outside of the BBN house.
If nothing, at least she has been up for possible eviction in the Big Brother Naija house four times back-to-back, a record no one in the house has beaten, yet her fans keep saving her.
Tacha was even fake evicted from the house with Seyi Awolowo a few weeks ago, yet, the Port Harcourt first daughter stands still.
It is obvious that Tacha is ready to stay in the BBNaija House till day 99 has she has maintained.
And it seems the housemates already see her as a threat making her their quickest target whenever it's time to nominate fellow housemates for possible eviction.
With the way Tacha is going, she is a very strong contender in the BBNaija 2019 and chances are she may likely become the winner of the 60 million Naira worth of prize come September 2019.
However, Nigerians can change their minds on a candidate in the twinkle of an eye.
We saw this play out in 2017 BBNaija when everyone switched to Efe's side just a few days before the end of the show, betraying Bisola.
This scenario might not exactly happen in Tacha's case but apart this 'quick change' factor, her other strong contenders like Mike and Mercy, there are many other things that might work against her, or better still, there are other reasons a lot of people will not consider Tacha a deserving winner of BBNaija 2019:
Tacha's Social Media Precedence
Tacha in the BBnaija house is entirely different from who she portrays herself to be on her social media forms prior to the house. Her case is a typical example of 'what you ordered versus what you get'.
She is almost a porn star on Instagram, you can check her account out if you don't believe.
We are not saying she should bring porn to the show but to think that Tacha would not even scatter the whole BBN house with lots of relationship talks, dances and an interesting personality is unimaginable.
Tacha is bringing something entirely different from what she portrays she is prior to the show and this may be a minus somehow.
Her lack of drive to win tasks
I don't have to explain this one too much. If you watch the show at their task time, you would see what I'm saying.
The other time she spent almost five minutes before completing her task. That's totally unaccepted.
After all, other female housemates are winning tasks and becoming HOH. Tacha just lacks the drive to win those tasks and it greatly detracts from her.
Her tendency to be proud
You may say she is confident but there is a thin line between overconfidence and confidence.
Overconfidence, however, is next to pride.
Tacha needs to take a chill pill. I mean what has she got to be proud of in the first place?
What should Mike or Seyi Awolowo do if someone like Tacha is proud?
She needs to work on these things; otherwise, it may work against her. She can learn humility from Mike at least.lol
Poor Response to Ebuka's questions
Who has noticed that Ebuka loves to put Tacha on the spot on Sundays than anyone else? Well, while that could be a plus it could also be a minus.
So far, her responses to Ebuka's simple questions have been at best, unintelligent. I mean, doesn't she listen when other housemates give answers to questions?
The other day she said Tacha was the Characteristics of a winner and it took the poor guy that is managing her social media lots of explanation to her fans before the whole thing calmed down.
She needs to learn how to respond better to questions thrown at her on national TV. Little things like these are what makes fans change their mind in dying minute.
Her intolerance of others housemates
Needless to mention this one, you already know. Yours truly can hardly stand any little attitude from other housemates; she will blow it out of proportion.
A normal level thing that happens in boarding houses is a big deal to Tacha, too bad! All the housemate did not come from the same house so a thinking person ought to expect different behaviours from housemates and give allowance for that.
Her already building up strike
The fear of strike is the beginning of wisdom in Biggie's house. But once Tacha gets into fight mood, she tends to forget the consequences, yet she wants to stay till 99th day.
With one strike in her handbag, other housemates might intentionally want to push her into bagging more so she can finally bid them goodbye long before day 99.
Her failure to show any intellectual capacity
Is it only me that sees Tacha as a shallow person?  Well, maybe I don't watch the show enough but I haven't seen her engage any housemates in any meaningful intellectual discussion.
I don't mean small talks about other housemates oh. I mean a real conversation about career, life etc. I feel she can really do better she just needs to mingle with people more.
On a final note, I do not hate Tacha at all; she is cool in her own way.
The points I have raised are genuine concerns I have about her that I feel might militate against her winning that prize. Besides, I really want a female to win the BBNaija show this year, so why hate on Tacha. She just needs to brace up.