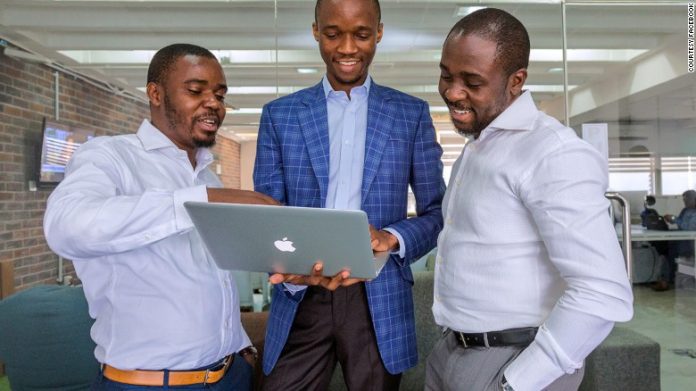 There is a pertinent question that occupies the mind of an average Nigerian student who is contemplating starting a business right from on his or her campus or one who has already started a business as a student entrepreneur.
The question is: Can I successfully combine my studies with any other career and come out successful in both? I know you are eager to find out the answer to this question but I would not answer that question with a simple YES or NO, after all, they say history is a good teacher, so why don't we allow history teaches us some important lessons here.
The Jobberman Story
Jobberman co-founders: Ayodeji Adewumi, Opeyemi Awoyemi, Olalekan Olude
About a decade ago, three university undergrads came together during an infamous ASUU strike and forever they revolutionized how people search for jobs and recruit in Nigeria, if not Africa.
Ope Awoyemi, Lekan Olude, and Deji Adewunmi had two things in common – they were all students at the Obafemi Awolowo University and all three had a burning passion for internet entrepreneurship.
So while many other Nigerian students as at that time complained about the endless strike and others conditioned themselves to sleep, eat and watch TV triangular life, these smart students got busy and productive while the strike lasted and the result is a startup that is providing solutions to millions of job seekers and employers in Nigeria and beyond.
How Tolet.Com started
(Co-founders of Tolet.com – from L-R:  Seyi Ayeni, Sulaiman Balogun,  Dapo Eludire and Fikayo Ogundipe)
Tolet.com (now propertypro) was founded by four young men – Seyi Ayeni, Sulaimon Balogun, Fikayo Ogundipe and Dapo Eludire – who met during their university days at the Obafemi Awolowo University, Ile Ife.
While in school as undergraduates, some of the current tolet founders had come together more like student entrepreneurs to cofound a computer hardware sales business. Their efforts at developing an innovative idea even as students in their undergraduate days is what has metamorphosed into one of the leading property listing platforms in Nigeria.
A School Hustle Turned Company: Printivo
"While in college, I started printing and design. Back then, I would call myself a Print Broker – we create the designs and outsource to print firms. This had me shuttling between Lagos and Ogbomosho almost every week. It was just a student hustle for me". Those were the words of Oluyomi Ojo, Cofounder and CEO of Printivo in a recent interview by Techpoint.
When encouraging Nigerian students to venture into entrepreneurship early in life, these are the type of success stories that would always to be recounted. Immediately after finishing at Lagoke Akintola University of technology, haven garnered a handful of experiences running a business in school, Oluyomi started a Design and Advertising firm called Urbanbaze.
Later, Oluyomi saw an uncatered for market in the SMEs and he decided with his cofounders – Ayodeji Adeogun, Ibukun Oloyede – to start Printivo. Today, Printvo is a leading tech-driven print production solutions in Nigeria.
Now, back to the question I asked above. Yes! you can successfully combine starting a business in school with your studies.
It's all about balance and strategic planning. Some of these successful startup founders studied very demanding professional courses like Law and Medicine and we are here telling their stories as owners of successful startups today. Who says you can't do better!
Images Sources
The images used in this article were sourced from the following sites:
1. Printivo blog
2. Jobberman
2. Techpoint.ng