The 15 Most Successful Female Entrepreneurs in the World
Men have been at the top of the leading board for years, dominating the world of business. But with the rise of influential women like Coco Chanel and Estée Lauder came the launch of a whole new era for businesswomen around the world.
Today, women are sitting side by side and establishing their businesses as household names in a variety of industries, including publishing, technology, fashion, broadcasting, and beauty.
Also Read:  100 QUOTES ON ENTREPRENEURSHIP THAT WILL INSPIRE YOU TO SUCCESS
And to inspire you to do the same, we've listed the top 15 female entrepreneurs in the world today.
1. Sophia Amoruso
Company: Nasty Gal and Girlboss Media
Age: 34
Net worth: $280 million (£216.8 million) (2016)
Sophia Amoruso the CEO of Nasty Gal and Girlboss Media had her fair share of obstacles when building her empire but has since managed to pull through and build an inspiring brand for millennials.
In 2015, she stepped down as Nasty Gal's CEO and watched the company file for bankruptcy, but this was just a setback and went on to develop her new venture, Girlboss, a site that's dedicated to advising and empowering women on wellness, beauty, careers and more. She never gave up just because her first company failed. She is a woman of inspiration.
2. Huda Kattan
Company: Huda Beauty
Age: 35
Net worth: $550 million (£425.9 million) (2018)
Huda Kattan the CEO of Huda Beauty company started her beauty empire after she quit her finance gig in Dubai. Struggling to find great quality false eyelashes as a freelance makeup artist, the beauty mogul decided to start making her own synthetic and faux minx eyelashes.
After becoming the new 'it' product for Kim Kardashian, Huda Beauty lashes sold out within the first day, making makeup queen Kattan a person to look out for. A genius of the lashes world I will say. Think out of the box is a lesson you can learn from this young entrepreneur.
3. Tory Burch
Company: Tory Burch
Age: 52
Net worth: $800 million (£619.4 million) (2018)
After gaining work experience in some of the biggest fashion houses in the world, including Polo Ralph Lauren, Vera Wang, and Loewe, Tory Burch the CEO of the Tory Burch company decided to spread out her wings and build her own label.
In 2004, she launched her very own fashion brand, which has become a huge success with unique and on-trend designs.
With her rise to fame, Burch wanted to get involved in philanthropy and founded the Breast Cancer Research Foundation which supports women with cancer and provides awareness to young women about the disease. A truly generous woman of virtue.
4. Arianna Huffington
Company: Thrive Global
Age: 68
Net worth: $50 million (£38.7 million) (2018)
Arianna Huffington is the co-founder and former editor-in-chief of the successful news website HuffPost (previously the Huffington Post).
After creating a digital news outlet, Huffington set her sights on launching a series of books, including the most recent, The Sleep Revolution.
She also manages the wellness site Thrive Global and offers a six-week course to improve people's overall wellbeing.
5. JK Rowling
Profession: Novelist, film producer, and screenwriter
Age: 53
Net worth: $1 billion (2020).
The British novelist JK Rowling faced her fair share of obstacles and rejection when she was trying to publish her first book, Harry Potter and the Philosopher's Stone.
Once she managed to break through the publishing barriers, though, JK Rowling's books became an instant hit seemingly overnight, turning the book series into films, merchandise, and even adventure parks.
Teaching all especially ladies to never stop dreaming and never stop hoping for the best. To be always optimistic about the future. One day you will make that hit too.
6. Vera Wang
Company: Vera Wang
Age: 69
Net worth: $630 million (£487.8 million) (2018)
Vera Wang the CEO of the company that bears her name was a late bloomer, compared to the rest of the ladies on this list. It wasn't until she designed her own wedding dress at the age of 40 that she decided to start her own fashion label.
Luckily, Wang had all the right contacts having worked at Vogue magazine to make her brand a success. She has since expanded her company and now designs everything from jewelry to home and kitchen wear, as well as clothes, shoes, and accessories.
7. Martha Stewart
Company: Martha Stewart Living Omnimedia
Age: 77
Net worth: $300 million (£232.3 million) (2018)
Martha Stewart grew to stardom as a celebrity chef, publishing a number of cookbooks and writing columns for several magazines. In 1997, the businesswoman centralized all her ventures with the creation of her media company, Martha Stewart Living Omnimedia.
She has since delved into TV and radio, and she continues to focus on her cooking success.
Do people often say your place is in the kitchen? Don't take it as an insult. Be like Martha- use that one thing people know you too well to make money. Develop that very thing you are extremely good at doing.
8. Cath Kidston
Age: 59
Net worth: N/A
Following a career in furniture design, Cath Kidston decided to branch out and build her own store in 1993 that sold her quintessentially British, vintage designs.
When vintage started trending again a few years later, the store quickly became a huge success and is now a household name on the British high streets. Just like that
9. Angie Hicks
Company: ANGI Homeservices
Age: 45
Net worth: $50 million (£38.7 million) (2018)
Finding a service provider in a time of emergency is hard – you call whoever has been recommended and hope for the best! And that's where Angie Hicks saw a huge gap in the market, forming a service that no one else had provided before.
Angie's List helps you find the ideal household service that is right for you – all at the click of a button! Again thinking out of the box. All you have to do is sit down and think. Take your time to study your environment rather than being a busy body.
10. Sara Blakely
Company: Spanx
Age: 47
Net worth: $1 billion (£774.2 million) (2018)
With little money to invest in her idea, Sara Blakely, the future founder of Spanx, faced rejection after rejections from investors when launching her brand. It wasn't until Oprah Winfrey publicly acknowledged her business idea that her company got off the ground.
11. Denise Coates
Company: Bet365
Age: 51
Net worth: $3.9 billion (£3 billion) (2018)
Denise Coates is the successful owner of betting site Bet365, which took her a year to develop and launch. She managed to fund the business by getting a £15 million loan from the Royal Bank of Scotland (about $19.4 million), turning it into one of the world's largest online gambling sites.
12. Cher Wang
Company: HTC Corporation
Age: 60
Net worth: $1.6 billion (£1.2 billion) (2018)
Cher Wang is the founder of the billion-dollar tech company HTC which is focused on creating new and innovative smartphones.
Despite slumps in the market, Wang strives to turn the business back around and create new devices to boost sales. Tech is not just for guys.
Don't be ashamed to do that thing you think will fetch you money because people say it's for men. Such thinking won't take you anywhere.
13. Kiran Mazumdar-Shaw
Age: 65
Net worth: $3.4 billion (£2.6 billion) (2018)
Kiran Mazumdar-Shaw is not only known for her staggering wealth but also for being India's first female entrepreneur.
She founded the business Biocon in 1978, which focuses on biopharmaceuticals which are sold in over 120 countries across the globe.
14. Jennifer Hyman
Company: Rent the Runway
Age: 37
Net worth: $300 million (£232.3 million) (2018)
Finding a niche in the market can be difficult, but Jennifer Hyman managed to do just that by making the runway affordable to all the Carrie Bradshaws out there.
The genius subscription package allows you to rent a designer dress, wear it to an event and send it back in a prepaid envelope, all at the click of a button.
15. Yang Lan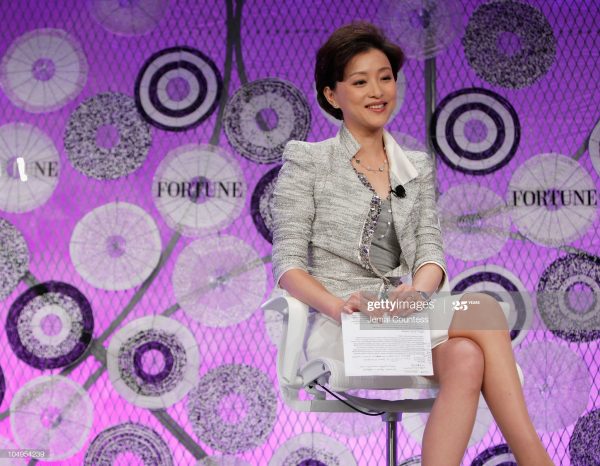 Age: 50
Net worth: N/A
Media mogul Yang Lan is undeniably the most powerful woman in the Chinese media. She not only founded the Sun Media Group but is also a journalist and talk show hostess. She's interviewed many famous faces, including Bill Gates, Hillary Clinton, and Keanu Reeves.
Becoming an entrepreneur isn't easy, but these inspiring women in business prove that, with the right amount of passion and a lot of hard work and dedication, you too can build your own empire.
So never feel you can't do it cause you are a woman. In one of my articles where I talked about how female lions provide for their families and nurture their young ones.
I emphasized the power women can get from working together with other women with similar goals, then they will see the true meaning of "girl's power".
Which female boss inspires you the most? Let us know in the comments section below!