Best digital banks in Nigeria
Hey there,
You'll find out some of the best digital banks in Nigeria in this blog post.
With over 170 million mobile phone users in Nigeria, and a rapid increase in the number of banked – thanks to fintech startups, it has become imperative for banks in Nigeria to make their finical services faster, easier, and cheaper.
Interestingly, many fintech startups have capitalized on this need, thus, creating digital banking apps and platforms where people can access endless financial services at their fingertips.
There are quite a number of these digital banks in Nigeria today that are worth your consideration.
I'll show you some of the best digital banks in Nigeria in this post. Let's get started.
Top 13 Best digital banks in Nigeria
What separates digital banks from traditional brick and mortar banks is that you don't have to visit the physical bank building to carry out any transactions.
In fact, these digital bank startups don't have physical offices, their customers can get everything done using an app in most cases.
PST.NET
PST.NET is a service that allows you to issue virtual payment cards that can be topped up with a crypto (so basically, it's crypto bank cards). This service enables its customers to pay for goods and services around the world with those virtual cards in USD.
To get the first card, you just need to register on the service, you can use Google or Telegram account for that. The whole process takes no more than couple of minutes.
The service offers several types of cards with different conditions for different needs (online shopping, digital ads like Google Ads, Facebook Ads, Twitter Ads, etc), including cards with 3-D Secure support (confirmation of transactions via SMS).
When issuing the second and subsequent cards, you need to go through a simple verification: just upload a photo of your passport or other ID for verification (KYC). After passing the verification, the restriction on the number of issued cards and spend limits will dissapear.
The service allows you to control all card transactions, there is a telegram bot for receiving service notifications and advanced two-factor authentication.
In addition to the web version, the service also has a mobile application (so far only for Android, an iOS version is under development). The application duplicates all the functions of the main version, but in a more convenient format for smartphones.
– Payment for goods and services around the world
– Simple and fast registration
– Best card service conditions (from $1 for a card, 2% top up fee, up to 100 free cards for a test)
– Many ways to deposit virtual cards (crypto, cards, bank transfers)
– Withdrawals of funds from the account are available
– 3D-Secure support (transaction confirmation codes)
– Tools for team work (setting spend limits, instant transfer of cards and funds between team accounts, transaction history for all participants, reports in CSV format, etc)
– There is a mobile application
2.  Kuda bank
Known as the bank of the free, Kuda bank has established itself as one of the most efficient best digital banks in Nigeria, hence, they have a huge and growing number of customers both young and old.
The idea of Kuda bank was borne out of frustration with the excessive bank charges synonymous with the Nigerian traditional banks and inconsistent services.
Kuda has been able to bridge this gap consistently since its establishment in 2018.
Kuda is a testimony that banks can be fully digital in Nigeria.
Notable features of Kuda bank
Get a free debit card that you can order right in the app
Save automatically and we'll pay you up to 15% interest every year
You can create smart budgets to help you take control of your spending
Pay absolutely nothing for sending money
You can see where your money goes without solving any equations
And many others.
You can download the app on the Google Play Store and Apple store or on the web.
3. Vbank
Vbank is one of the leading digital banks in Nigeria owned by Wema Bank. Vbank has redefined virtual banking services in Nigeria. The app was launched in March 2020.
The digital bank has most of the features of other digital bank apps in Nigeria and even some more.
They charge zero naira on transactions; account maintenance and they give competitive monthly interest on savings.
With Vbank, you can enjoy a streamlined digital and mobile banking experience, with ease of access to your accounts, swift and secure transfers, withdrawals, and bill.
Notable features of Vbank
A budget feature that allows you to add limits to your daily, weekly, and monthly spends, and tracks the progress for you as well.
You can make transfers or receive payments with ease by scanning a QR code
The app allows you to Create recurring transactions on transfers or bill payments
Send money within a single transaction to many recipients in one click
Couples can synchronise their budgets and expenditure to achieve financial chemistry with V's Joint Account
Enhance your user experience by specifying your most frequently used functions of the app, and put them into the quick menu page for easier access, etc.
You can download the app on Google Play store and Apple store.
4. Piggyvest
Talk of a digital savings and investment platform in Nigeria, Piggyvest is one of the best at this.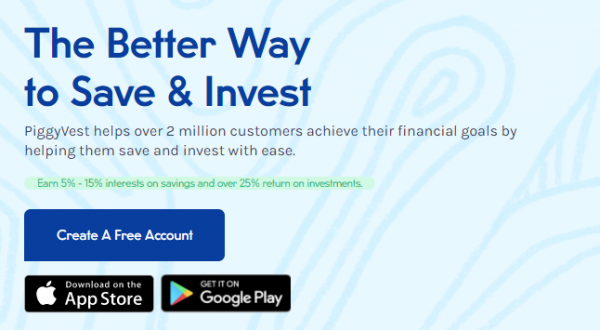 Reputed as one of the best digital banks in Nigeria, Piggyvest makes savings and investment quite simple and easy for everyone.
PiggyVest is the first online Savings & Investment app in West Africa. They first launched as "Piggybank.ng" in 2016 as a savings-only platform.
They rebranded in 2019 to "PiggyVest" and began offering direct investment opportunities to users in addition to savings.
Piggyvest now has over 1,000,000 users and counting who help manage their finances with simplicity and transparency.
Notable features of Piggyvest
Strict daily, weekly, or monthly automatic savings. You can earn up to 8% p.a
Save periodically, automatically, or manually. You can also save as you go, on your own terms.
You're the boss of your savings, choose how you want to save
You can access pre-vetted low-medium risk primary and secondary investment opportunities easily with any amount you have. No hidden fees/charges
Thorough due diligence and pre-vetting on all investments are carried out for maximum safety
You don't need to be a billionaire to invest, neither do you need a lot of money. With as little as N5000, you can begin investing and watch your money grow
You can download the app on Google Play store and Apple store
5. Sparkle
Though relatively new – launched in 2019, Sparkle is known as one of the top 10 digital banks in Nigeria.
Sparkle is a lifestyle and financial ecosystem providing seamless solutions to Nigeria's retailers, SMEs, and individuals.
Leveraging technology and data, Sparkle is leading a new generation of digital-only businesses licensed by the Central Bank of Nigeria.
Sparkle's mission is to help Nigerians fulfill their potential by democratizing access to valuable solutions for their business and personal needs and so, far, they have been fulfilling this promise to Nigerians.
Notable features of Sparkle digital bank app
Sparke pay: SparklePay is an innovative means of sending and receiving payments with the use of a uniquely generated payment link.
Sparkle cards: Both virtual and physical cards for in-app, in-store & online payments.
Sparkle Stash: A personalized means of saving your money as you like. It could be by a percentage, with a group of other Sparklers, or by incurring interest. Set different goals and save towards them with Sparkle stash.
Get your expense and transactions analyzed and measured per day, weekly or monthly, to then provide rich data on what expenses to watch and how best to manage them.
A one-of-a-kind tax-paying app like no other for Sparkle business owners. Mark taxes off your to-do list anytime, and from anywhere. Simply file your returns on the go from your phone, etc.
You can download the app on the Google Play Store and Apple store.
6. One bank
OneBank is a 100% digital banking app brought by Sterling bank. It offers you the ability to register and bank instantly and you can make payments, invest and borrow money, all in the app.
With OneBank, you can get everything done without entering any bank branch. You can self-onboard, enter your BVN, upload your documents, and start transacting.
You can then go ahead to enjoy the experience of starting an investment plan, applying for a loan transferring forex.
While using a digital bank app, you get to enjoy a dynamic news feed, scrolling forex and so many other features to look forward to. One bank ranks as one of the best digital banks in Nigeria.
Notable features of One bank
Stay in control and bank on your own terms. Download, create an account and transact all around the world from the convenience of your mobile phone
One bank offers quick loans of up to ₦5 million in 5 minutes, this is one of the most interesting features of the digital banking app.
Stay ahead of the market and enjoy up to 100% returns on your Naira and Dollar investments via Doubble on OneBank
Transfer funds from your wallet or account to anywhere around the world within seconds on OneBank
Pay for airline tickets, cable & internet subscription and buy airtime seamlessly and conveniently
Instantly create your virtual card for online shopping or request for an ATM card and have it Alat delivered at no fee within 48 hours, and much more.
You can download the digital banking app on your Apple Store or Google Play store.
7. Alat by Wema
ALAT by Wema is Nigeria's first fully digital bank, designed to help you do more with your money.
Alat is owned by Wema bank as you may have rightly guessed. Just like every other digital bank, there is no need to visit a bank to open an account.
Alat has over 600,000 downloads on Playstore.
Notable features of Alat
Fund your Account via a Wema Bank Current or Savings Account (If you are an existing Wema Bank customer) or via another local or foreign card from any bank.
Send money from your ALAT account by clicking the 'Send Money' button on the ALAT dashboard then click on the 'New' button.
Free bank card delivery anywhere in Nigeria.
A Virtual Dollar Card for online payments.
Bill payments option.
Collateral-free loans are available.
Save easily with automated goal saving, etc.

8. Rubies
Rubies is a digital banking platform of Highstreet Microfinance Bank.
The digital bank platform offers 100% digital, zero-fee banking and support for professionals, artisans and Small and Medium Enterprises has debuted in Nigeria.
Rubies is one of the best digital banks in Nigeria presently and it enables customers to perform all their banking needs on the go without hidden charges.
It also allows users gain access to over 1000 ATMs across the country.
Notable features of rubies banking app
Tailor-made for businesses, Rubies completely digital platform grants businesses access to the Rubies payroll system, ERP, and Rubies Open API.
Group Financial Collaboration Tool for associations, groups, Coop, etc.
Multibank Core Banking System, cloud-based, shared services (Ledger, Payment, Ecosystem Integration).
Interbank Clearing and settlement function for MFBs (Technology, Settlement, Ecosystem Integration)
You can download the rubies app on Google Play Store or Apple store for free.
9. Cowrywise
Similar to Piggyvest, cowrywise is a savings and investment digital banking app that is building savings and investment culture among the growing population of underserved African middle class and millennials.
Cowrywise helps make saving and investing seamless. The platform takes away the stress and planning required to save and invest on a regular basis through its automated and easy-to-use platform.
Your savings also generate interest until the set maturity date.
Notable features of cowrywise
Automate your savings and earn awesome returns. No penalties. No fees. Absolutely free.
With just one account, you can save in multiple different ways.
They make it possible for anyone to invest any amount in Nigerian mutual funds and get returns.
With Cowrywise's Systematic Investment Plan (SIP), you get to invest a certain amount of your income on a periodic basis.
Regardless of your risk profile, the Cowrywise app empowers anyone to start investing; entrepreneurs, fresh graduates, and busy professionals all find it easy to invest using Cowrywise.
The app is available for download on your Google Play Store and Apple store.
10. OPay App
OPay is another player in the digital bank space in Nigeria today. They have one of the best digital banking apps on the Apps store.
-*
Although OPay is known to offer varied services beyond payment, the App is still one of the most-used solutions for financial services in Nigeria that users can use to perform multiple tasks.
OPay is a one-stop mobile-based platform for payment, transportation, food & grocery delivery, and other important services in your everyday life.
Millions of users rely on OPay every day to send and receive money, pay bills, and order food and groceries.
Notable features of the OPay digital app
Make your payments from the comfort of your homes or on the go. Pay for your cable TV, electricity, water, education, toll, tax, and more.
With OPay, you can send money to other banks for free and receive money in real-time. All you need is a phone number to open an account.
Start saving smartly with any of our savings products and get up to 15% interest returns per annum. Withdraw your money at your convenience.
USSD code feature to make any transactions
Chat with family and friends on the app. Send money to them with zero charges through our wallet-to-wallet payment system.
You can get the app on your Google Play Store and Apple store.
11 Eyowo
Eyowo is one of the best digital banks in Nigeria when it comes to online banking in Nigeria.
The platform was launched in 2019. The app provides simple, modern, and reliable financial services to anyone with a phone number.
With Eyowo app, you can spend, send, receive, save and borrow money with just your phone number.
One interesting thing about the App that differentiates it from many other digital banks is that you can also borrow money easily and fast with zero interest rates.
Notable features of Eyowo
Send money to anyone on their phone number. You can also send money to any bank account in Nigeria.
Pay for your electricity, internet, and cable TV subscriptions conveniently and securely. Also, spend online with our Dollar cards.
Save cash on your own terms and watch your money grow.
Get paid instantly on any phone number in Nigeria, etc.

12. Mint
Launched in 2020, Mint is owned by Finex Microfinance Bank Ltd, a bank licensed by the Central Bank of Nigeria.
Mint is democratizing banking by giving its customers the power to decide exactly what kind of bank they want.
With the Mint app, you see your inflow and outflow in simple terms. You can also set spending limits, lock your card, and plan ahead.
Notable features of Mint
Banking that puts customers in control: The digital platform promises no hidden charges, giving customers the power to decide exactly what kind of banking they need with no surprises or hidden charges.
A chance to earn up to 15% interest on the money with flexible goal-based savings
Personalized money tracking: With the MyMintApp (Andoid, IOS, Web) customers can monitor inflow and outflow, check-spending limits, lock cards and simply plan ahead.
Financial inclusion: The bank would provide financial services to underserved groups such as low-income earners. Mint digital bank would help individuals and businesses to secure financial products and services at economical prices. Such services would include deposits, fund transfers, bill payments, payments, etc.

13. Gomoney
We can't talk about the best digital banks in Nigeria right now without mentioning Gomoney. The app is gradually gaining ground in the digital banking space in Nigeria.
Gomoney sets users up for an all-in-one banking and financial awareness experience.
They employ a business model that eliminates all the hidden charges synonymous with traditional banks while creating a platform to help users understand their spending habits with transaction enrichment, meaningful spending reports, and categorised spending.
Available on both Android and iPhones, Gomoney creates a bank that is flexible enough to accommodate every Nigerian's ever-expanding income spectrum.
With just a phone and internet, Nigerians have access to an account, debit cards and an array of money management tools.
Some features of Gomoney
Versatile Virtual Cards: By simply opting to "Get a virtual card" and choosing a PIN, a user can generate a gomoney virtual card in seconds, and it automatically activates after 24 hours.
Also, to ensure its security, gomoney virtual card details are by default encrypted and only become visible when users have entered their four-digit personal identification number.
Sheduled payment option: You can choose the exact date your payment goes out without having to wait for that day and on top of that be able to automate the frequency of such payment.
Split bills: Create a split group on your gomoney account, label it and invite friends. Once they approve, you can split anything! From everyday expenses like Uber trips, eating out, and Netflix, to special events like traveling, renting a home together or Aso Ebi payments!
ROUNDING UP
As always, if there is anything I didn't touch on in this post, feel free to let me know in the comment session.
Also, let me know if there is anything you want me to talk about in the blog or my YouTube channel.
Follow us on Twitter and Instagram. Subscribe to my YouTube channel and don't miss out on our awesome content there.
CHEERS!
Do you want to make money right from your campus and start building a successful life from school?